Apple has announced Apple One at its "Time Flies" Special Event last Tuesday. It's a bundle of their services into one monthly or yearly subscription and comes in three tiers, and will be released by the end of the year. But, is it worth it?
Apple's Services
First, let's do a rundown of Apple's services.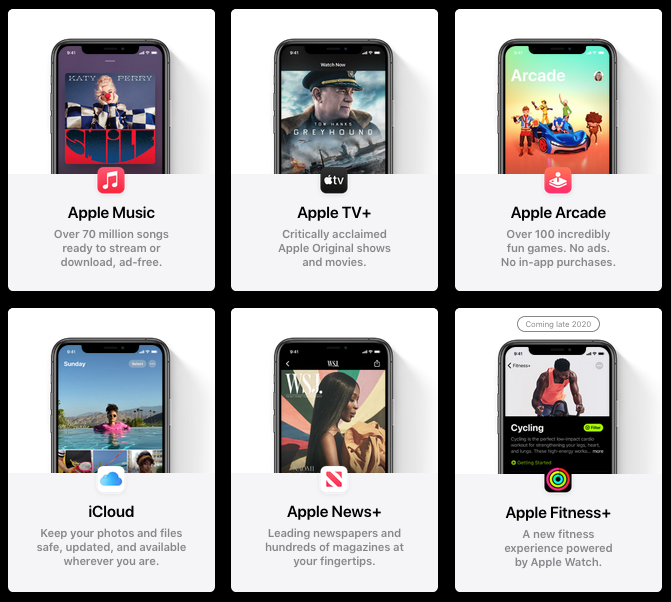 Apple Music
$10/mo (Personal), $15/mo (Family)
Apple Music is their music streaming service. For $10 a month you and stream all the music you want from a wide variety of artists, create playlists, explore new music, and expand your library.
Apple TV+
$5/mo
Apple TV+ is Apple's video streaming service featuring original award-winning content from Apple's studios for $5 a month.
Apple Arcade
$5/mo
Apple Arcade, Apple's gaming subscription service has around 100 games, mostly children's games, that are all ad-free have no in-app purchases. It costs $5 a month.
iCloud Storage
50GB: $1/mo, 200GB: $3/mo, 2TB: $10/mo
Get iCloud Storage to back up your iPhone or iPad. Use iCloud Photos Library to sync your photos and iCloud Drive to sync files between your devices and the cloud. Pricing is based on how much storage you purchase. So, $1 a month for 50GB, $3 a month for 200GB, and $10 a month for 2TB.
Fitness+
$10/mo (Coming later 2020)
Fitness+, coming later this year, will deliver workout videos from a team of "Top workout trainers at Apple". For $10 a month you can stream on your iPhone, iPad, or AppleTV. And, with Apple Watch integration you can see your rings on screen as you complete your goals. There is also Apple Music integration for adding the trainers' curated playlist to your music library.
News+
$10/mo
News+ gives you ad-free access to full publications from over 300 newspapers and magazines including Time Magazine, The Washington Post, Nation Geographic, LA Times, and more for $10 a month.
Apple One Plans
Now that we have that out of the way let's take a look at the Apple One tiers.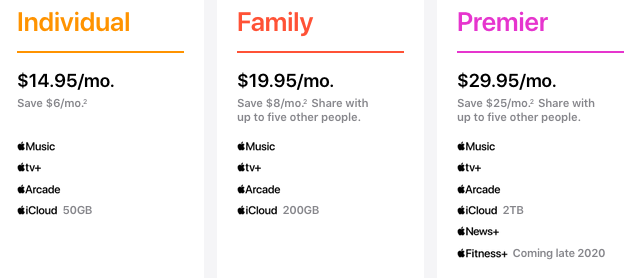 Apple One Individual costs $15 a month and includes Music, Arcade, TV+, and 50GB of iCloud storage.
Apple One Family costs $20 a month and includes the same services as the individual plan with iCloud storage being increased to 200GB. You can also share the benefits with up to six people.
Apple One Premier costs $30 a month and includes all of Apple's services including Music, Arcade, TV+, 2TB of iCloud storage, News+, and Fitness+. With the ability to share all of these services with up to six people.
My Complaints
I do have some complaints. Apple why include TV+ and Arcade in every bundle? Both of these services are hard sells.
Starting with AppleTV+. The service may have award-wining content, but there isn't a lot. There's about enough content to spend $5 to subscribe for a month and stream the whole catalog. Or you can just buy a new Apple product and get a year of TV+ free.
Second, Apple Arcade? No thanks. Get access to around 100 children's mobile games. Games you would expect to be free on the App Store supported by ads and in-app purchases, not a monthly subscription. It would make more sense if included some console-level games, but like TV+, it lacks valuable content.
All that being said this opens a huge missed opportunity.
Missed Opportunity
Imagine how nice it would be if they had better bundles. What about a News+ and Music bundle or Music and Fitness+ bundle. My hope is they eventually create some more useful bundles that more people may find attractive.
How about an al-la-crate option. Say choose two of the following: Music, News, Arcade and TV+, Fitness+ then keep the iCloud storage quota and prices the same. This would encourage more people to buy more than one of their services. Then leave the Premier plan alone, I think that's their only good deal.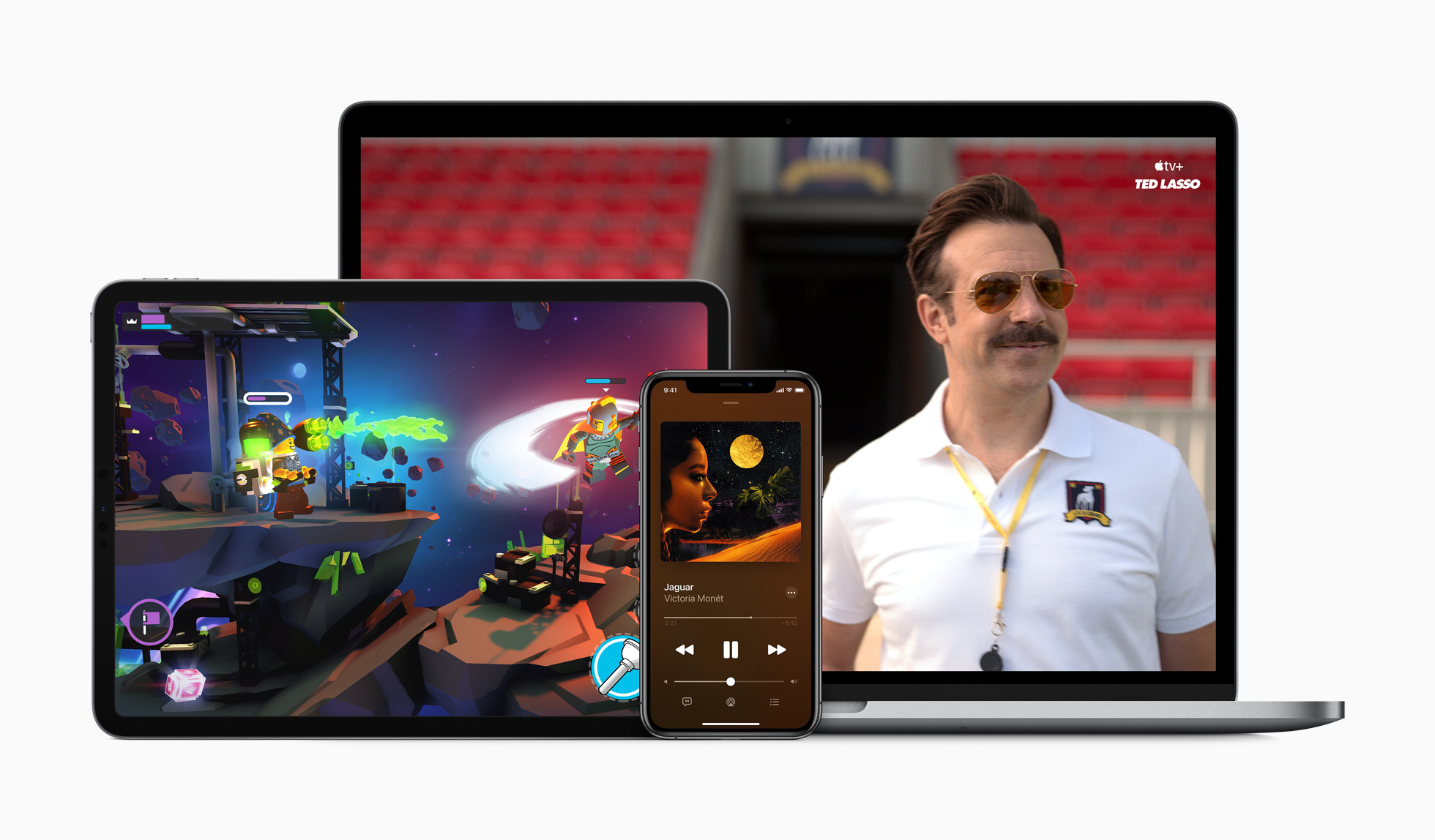 Apple One is a good idea. Apple has many services that are great companions, but I think throwing in Arcade and TV+ into every plan was not a good move and is why I don't recommend getting both the Individual nor Family plans.
Resources
Subscribe: Apple Podcasts | Google Podcasts | Spotify | Amazon Music | Android | Pandora | Blubrry | Email | TuneIn | RSS | More