At Apple's World Wide Developers Conference (WWDC) Apple announced iOS 13 the latest update to their mobile operating system that runs on iPhone, iPad, and iPod Touch that will be released in the fall. Here's a list of the most notable features.
Dark Mode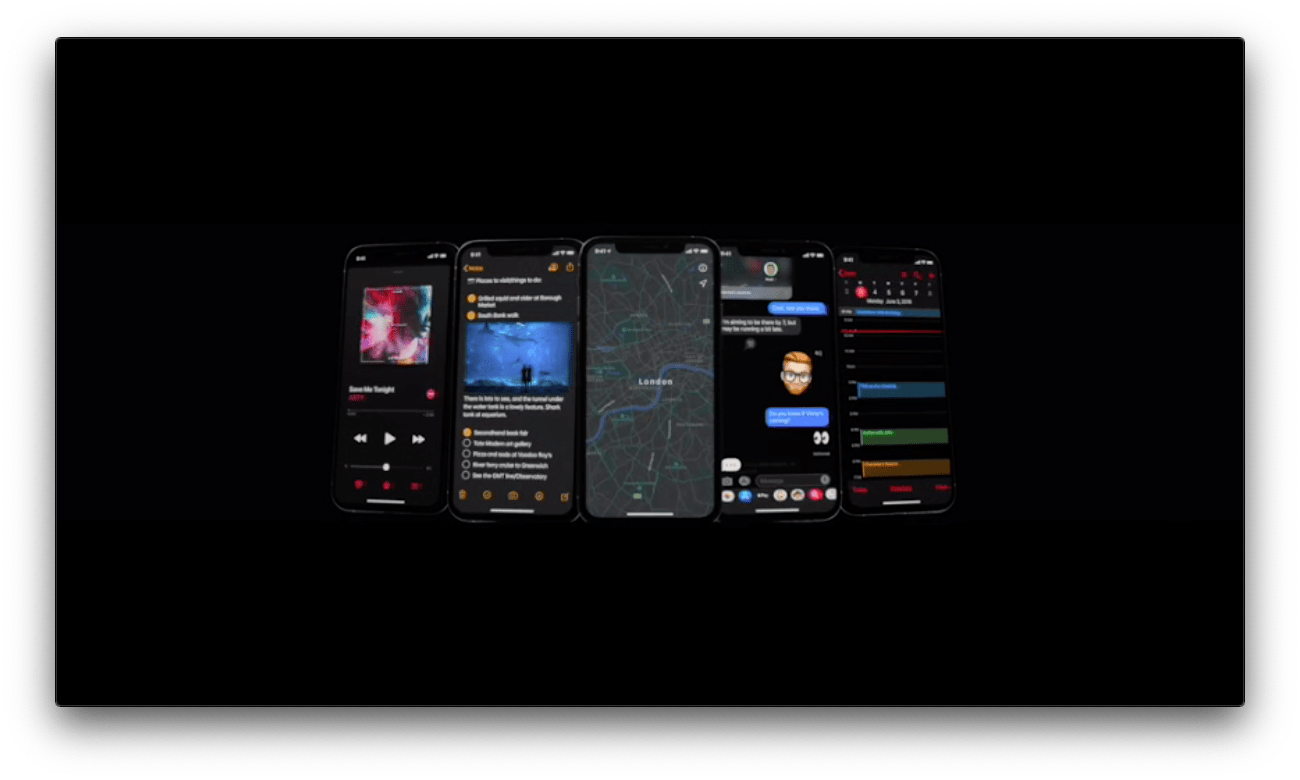 Previously there have been accessibility features to invert the colors to create a sort of dark mode. Now Apple has properly implemented Dark Mode across iOS down to the new wallpapers. Dark Mode can be enabled from settings, from the control center, or be put on a schedule. For those of you who have an iPhone X or Xs dark mode can greatly improve your battery life.
Photos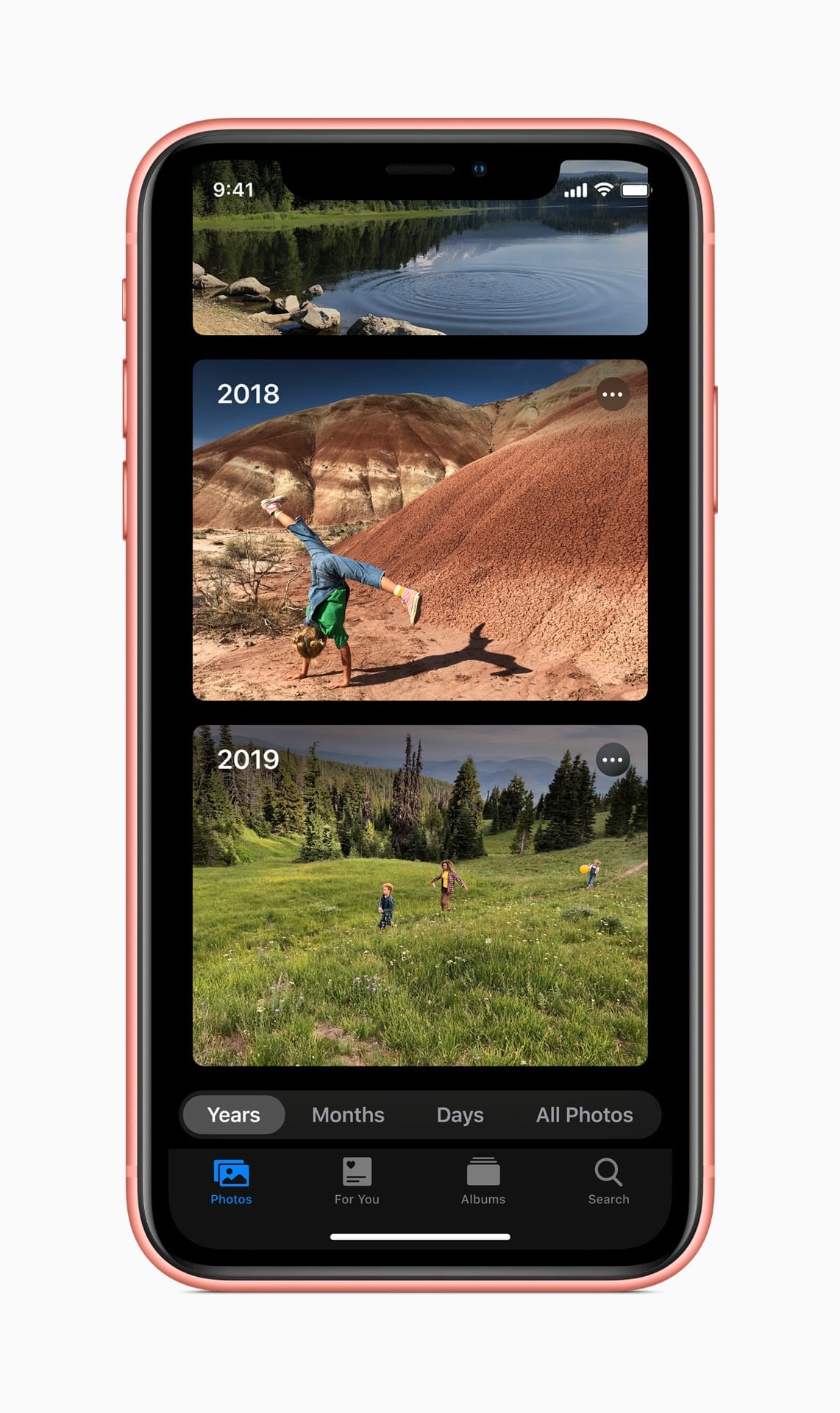 The Photos tab in the Photos app gets a redesign. You can now better filter your photos by day, month, and year all while removing the clutter of screenshots and repeated photos. All while auto-playing your videos and Live photos.
Photo editing also got an update with new adjustment dials.
Previously your only option while editing a video was to trim the beginning and the end. Now every tool that you can use to edit a photo is available while editing videos. You can crop, add effects, trim the beginning and end, or rotate the video.
Sign in With Apple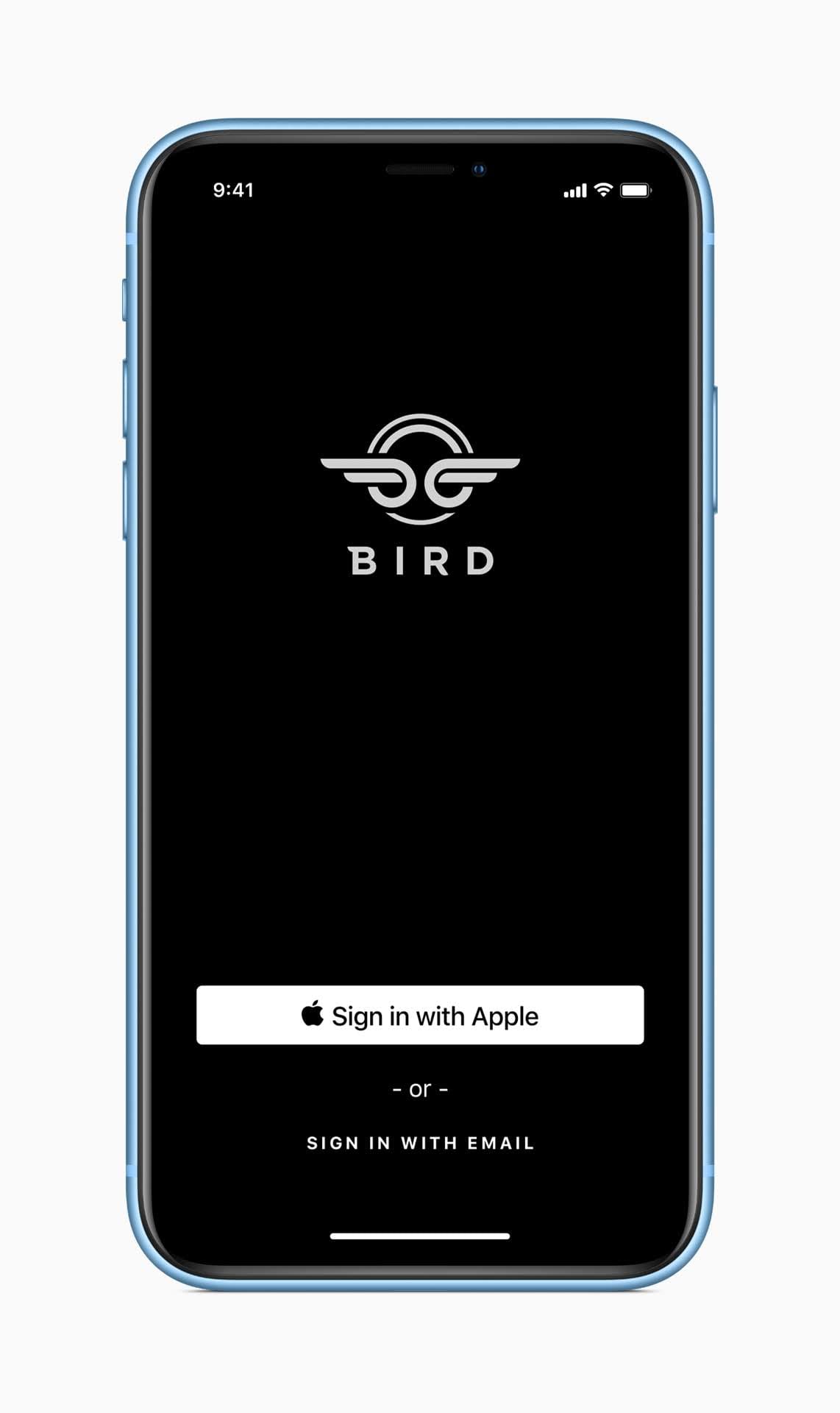 When you create an account many places give you the option to sign in using Google or Facebook, which we know are not the most secure options. When we use these buttons Facebook or Google send your account information to the website and create your account. In an attempt to combat these insecure options Apple has taken a stab at with Sign in with Apple. Sign in with Apple will use your Apple account to create your account. Unlike Google where you are shown the general information that is being shared, Apple will show you exactly what will be shared. If you don't want to give the site your primary email Apple offers temporary emails. When the site wants to send you an email it will be redirected to your primary mail account. Want to stop getting emails? Just cancel the temporary email. After creating the account to use FaceID or TouchID to sign back in.
Location Privacy
When Apple closes a door for trackers they open another one up. Apple forces apps to ask the user for permission to use their GPS location. They have found a way around the wall by using your Wi-Fi and Bluetooth to find your location. Apple has patched these hole keeping trackers from using your Wi-Fi and Bluetooth to track your location.
In addition to patching the hole, Apple has taken a step forward with location privacy settings. On top of allowing apps never to use your location, use it only while using the app, or always allowing, in iOS 13 you can allow only once. Every time the app wants to use your location it will have to ask first.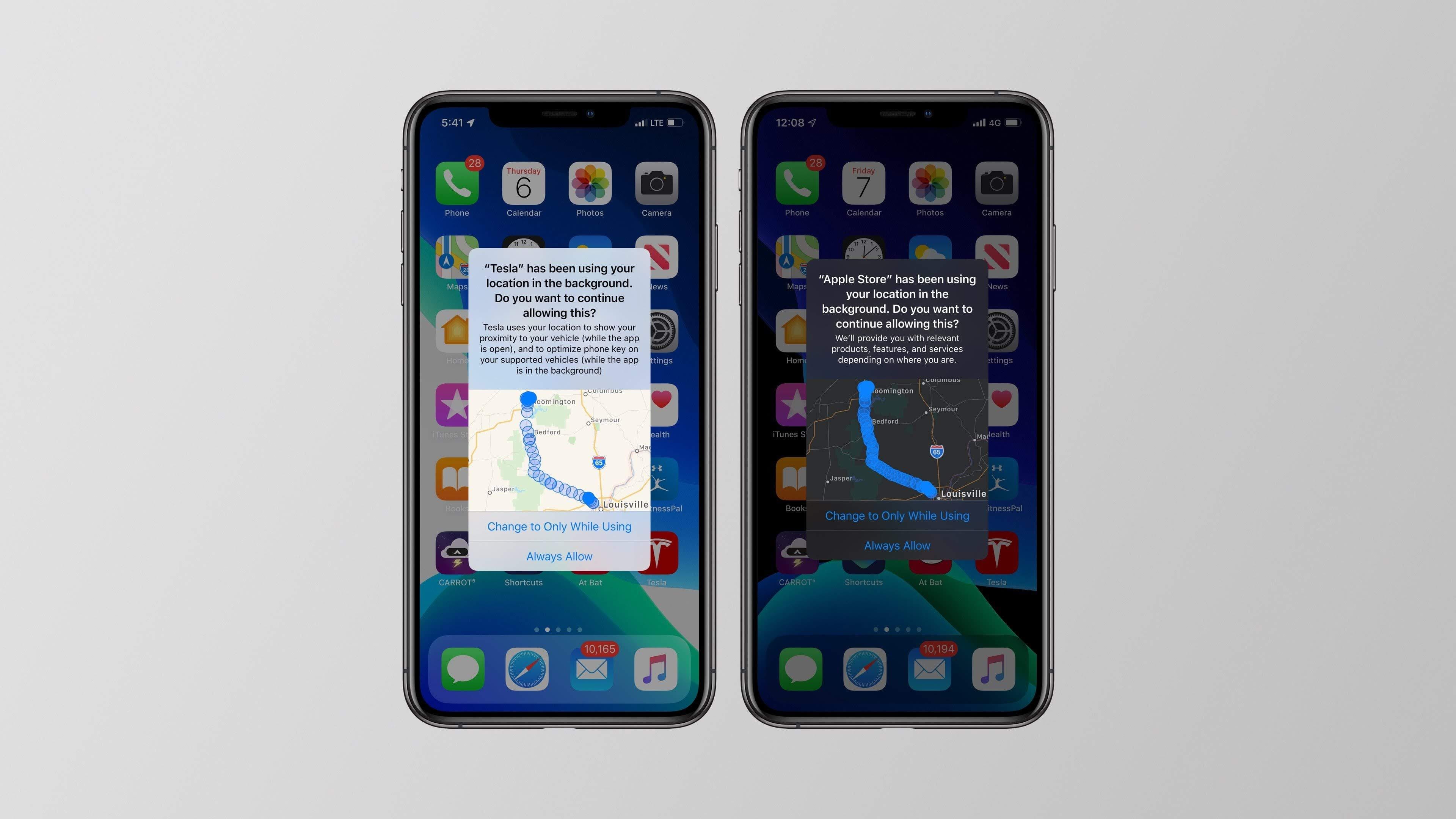 Lastly, iOS has always told you when an app is using or has recently used your location by putting an arrow in the status bar. iOS 13 is taking it to the next level, by listing the app and the time it accessed your location.
Maps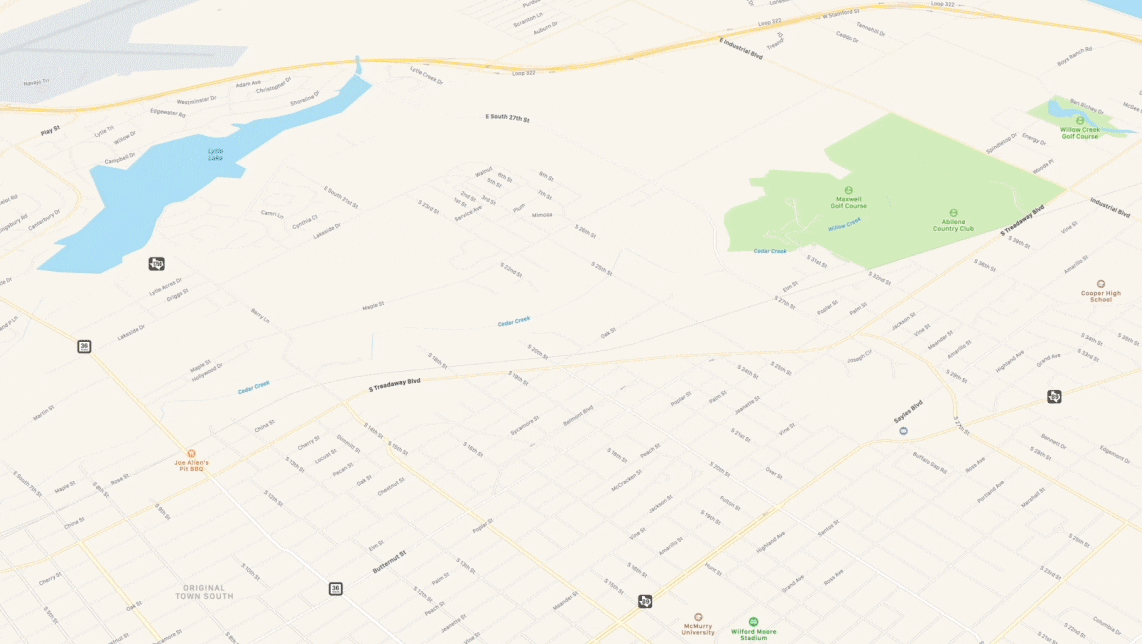 For years Apple Maps vans have been scouring the world. In the fall Apple will release a new map with all the data that has been collected. According to Apple, the maps will have "more realistic details for roads, beaches, parks, buildings, and more." Under the search bar, you can save locations to your favorites, and Collections which are folders for your favorite locations. The most notable feature is Look Around, which like Google Maps Street View, gives a 360° field of 3D view.
Siri
While other voice assistances like Google Assistance and Amazon's Alexa have been progressing, Siri appears to be standing still. Siri has a new voice making her sound more human-like, or as Apple says "natural". The
Shortcuts app will be preinstalled on all devices when updated to iOS 13. This will widely expand the capabilities of Siri.
Siri on the HomePod will be able to learn voices to create personal profiles for all your family members. On the topic of audio, AirPods will start reading out messages and you can even share your music between two sets of AirPods.
Keyboard and Memoji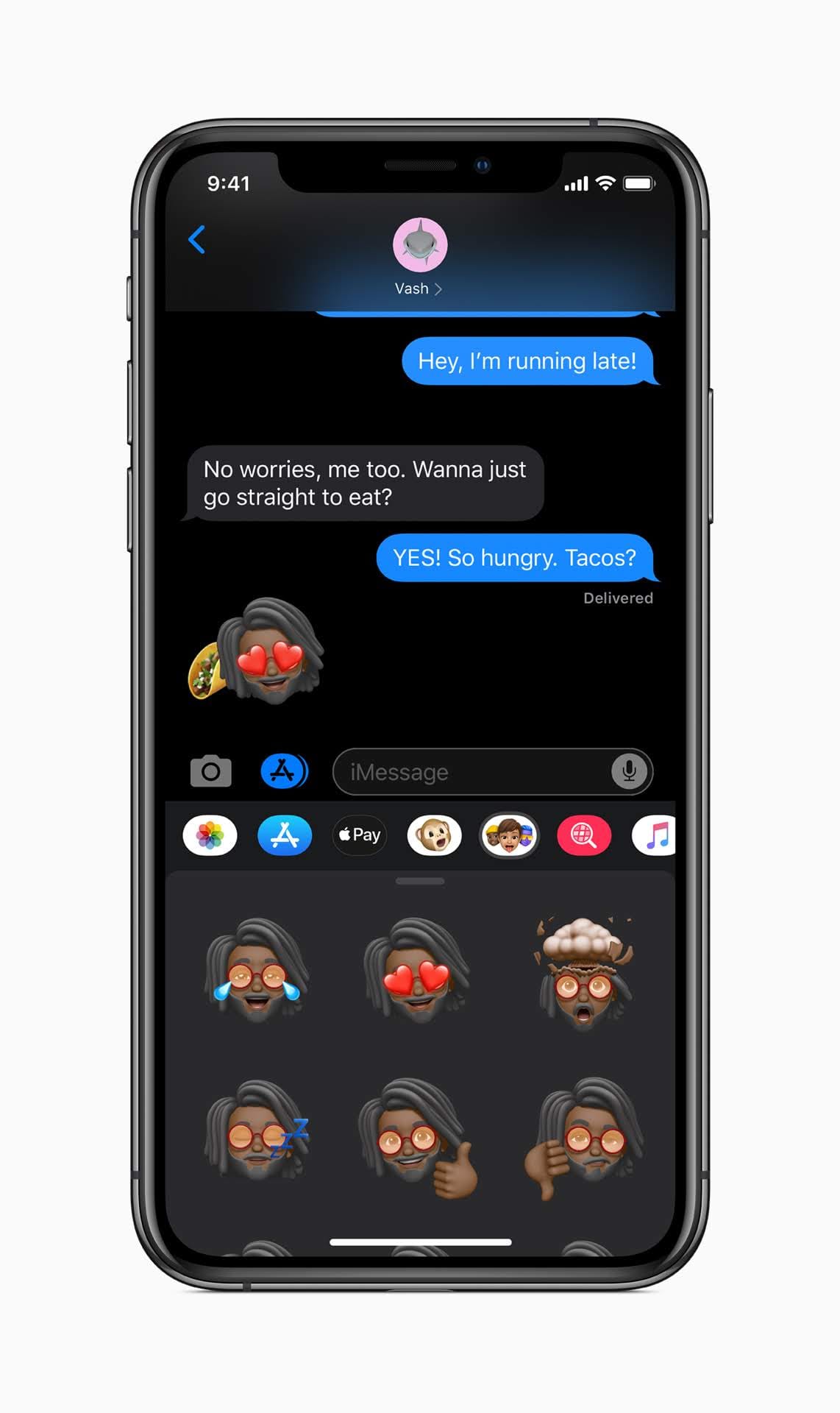 If you have FaceID you can further customize your memoji with piercings, makeup, and hats.
If you use Snapchat's Bitmoji, Apple is coming into the competition. You can add your Memoji as a keyboard and use them beyond Messages, and the keyboard will sync across all of your devices even if it doesn't have FaceID.
Continuing with keyboards, if you previously used an Android then this feature is probably not new, you can swipe from one character to another on the keyboard natively using a feature called QuickPath.
Sharing Contact
We pass around our mobile numbers a lot. Most of the time you call or text to exchange numbers then create a contact. No more, once you exchange numbers you can send your contact which will include either your Memoji or picture.
Reminders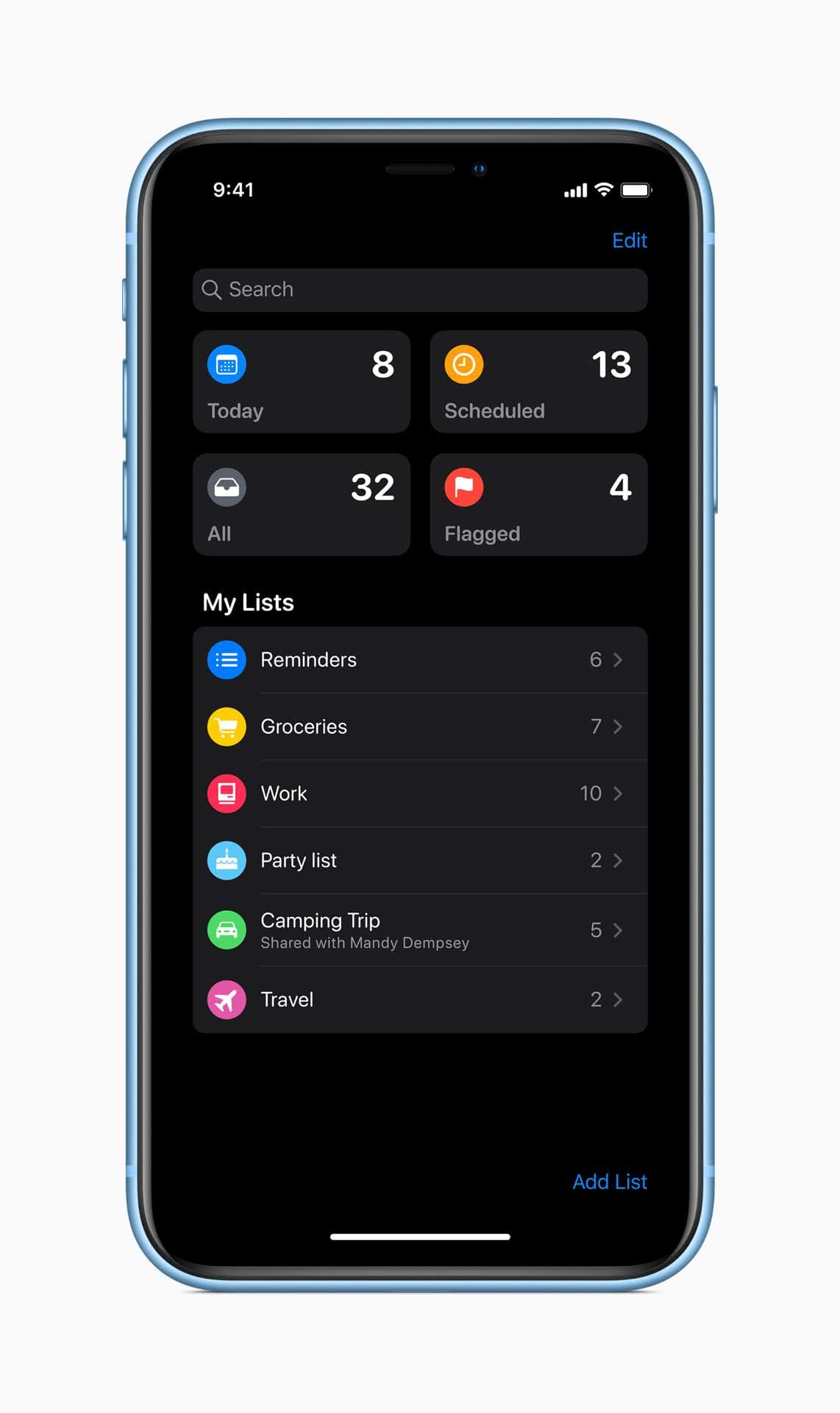 In principle, Reminders is a great app. Previously the app hasn't been very inviting with its difficult interface. In iOS 13 Reminders gets a complete overhaul from top to bottom. At the top will be a search bar. Underneath the search bar is filters: Today, Scheduled, All, and Flagged. Then instead of having a Wallet style organization for the individual list, there are shown as a list. If you need to add a new list there is a button for that at the very bottom.
When adding a reminder you can include the time, date, location, and documents.
CarPlay
CarPlay users will be getting a welcome update. The dashboard will show you more including maps, calendar events, now playing music, and a HomeKit device. The Calendar app is also added and the Music app is also redone highlighting album artwork.
Performance
iOS 12 did great in terms of performance. iOS 13 will allegedly do the same. Apple says that FaceID will unlock 30% faster than on iOS 12 and app updates and downloads will be smaller and 2x faster than they used to be.
Formatting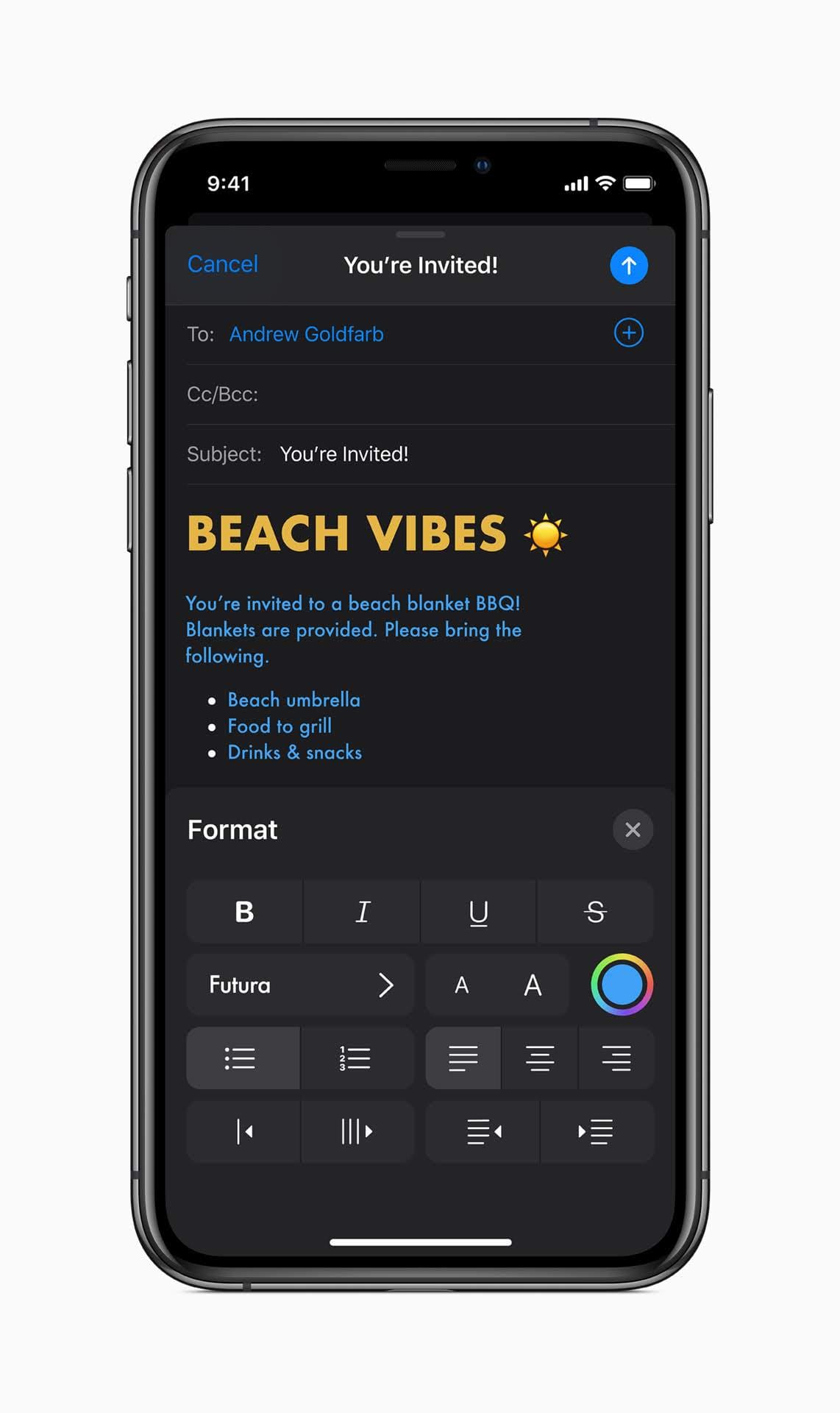 iOS 13 and many apps will see more formatting options. You will be able to change the font style across iOS in Settings. In Mail, you can customize text size, font style, color, arrangement, indentions, and bulleted list an email body.
iOS 13 also comes with new gestures. To copy pinch up with three fingers, to cut pinch up two times with three fingers, then finally to paste pinch down with three fingers. No longer shake our device to undo, swipe three fingers to the left to undo, and three fingers to the right to redo.
When selecting text there is no more magnifying glass, instead, naturally, drag the cursor where you need it.
Files
The Files app was released in iOS 11 with a lot of potential and a file manager for iOS. All this time all it could do is be a file browsers for your cloud service and wasn't very useful. Now it is!
You can finally access your device's local store actually being able to use all 512GB of your new iPhone. You can connect to file servers like your home PC and plug-in external thumb drives and camera SD cards.
In Safari you can download files using the built-in download manager. Then access the file through the Files app.
Lastly, while previewing files you will see more metadata including the file size, preview, dates, tags, and more.
And More
iOS brings so many updates here is a list of some other notable changes:
Find My iPhone and Find My Friends merge into one app.
You can find offline devices that are not connected to a cell tower or Wi-Fi.
In the Music, App lyrics go line by line as it plays aloud.
If you don't like getting calls from unknown numbers that are not in your contacts, mail, or messages you can silence them sending them straight to voicemail.
Low Data Mode lessens how much data an app is using.
Under accessibility, if you cannot touch the screen then you can control it using your voice.
New battery optimization helps to reduce the aging process of your battery.
If you have Do Not Disturb While Driving enabled when it notices your driving, it will not automatically enable while on public transit.
For games that support remotes, you can pair and use your Xbox One S or PlayStation 4 controller.
The volume control is a redesign, now discreetly in the at the top instead of covering the middle of the screen
Supported Devices
iPhone Xs
iPhone Xs Max
iPhone XR
iPhone X
iPhone 8
iPhone 8 Plus
iPhone 7
iPhone 7 Plus
iPhone 6s
iPhone 6s Plus
iPhone SE
iPod Touch (7th Gen (2019))
Reviews of iOS 13
Helpful Links
Subscribe: Apple Podcasts | Google Podcasts | Spotify | Amazon Music | Android | Pandora | Blubrry | Email | TuneIn | RSS | More