If you have an iPad that is dear to your heart then it's time to get excited. At Apple's World Wide Developers Conference (WWDC) Apple announced iPadOS.
When the iPad was first unveiled in 2010 it ran Apple mobile operating system iOS which by then was already being used on the iPhone and iPod Touch. The only difference is that it was upscaled for the larger display of the iPad.
iOS has carried the iPad all this time gaining the same features of iPhones. But, since 2010 mobile technology has made huge strides. For most people who only stream Netflix and scroll through Facebook, the iPhone or any other smartphone is ready to replace your computer.
With these advancements, the iPad has been able to gain a limited number of desktop features with iOS including a Mac-like dock and multitasking.
Then the iPad Pros came along delivering an incredible amount of power, but iOS and apps couldn't really take advantage of this new power due to Apple limiting iOS.
iPad users demanded more from their iPad. Users could see it's potential. At this point, the tablet has the power to fully replace a desktop, but iOS couldn't do it on its own. Should Apple replace mobile iOS with the desktop macOS on the iPad? Well, we all know Apple has no plans on that any time soon.
At Apple's WWDC the iPad got a whole list of new exclusive features. In an attempt to separate the new iPad features from iPhone features, Apple created iPadOS. In its essence iPadOS is still iOS. iPadOS has received the same features as iOS but with some iPad exclusives.
Since iPadOS has many of the same features as iOS I'm only going to cover the iPadOS exclusive features.
Home Screen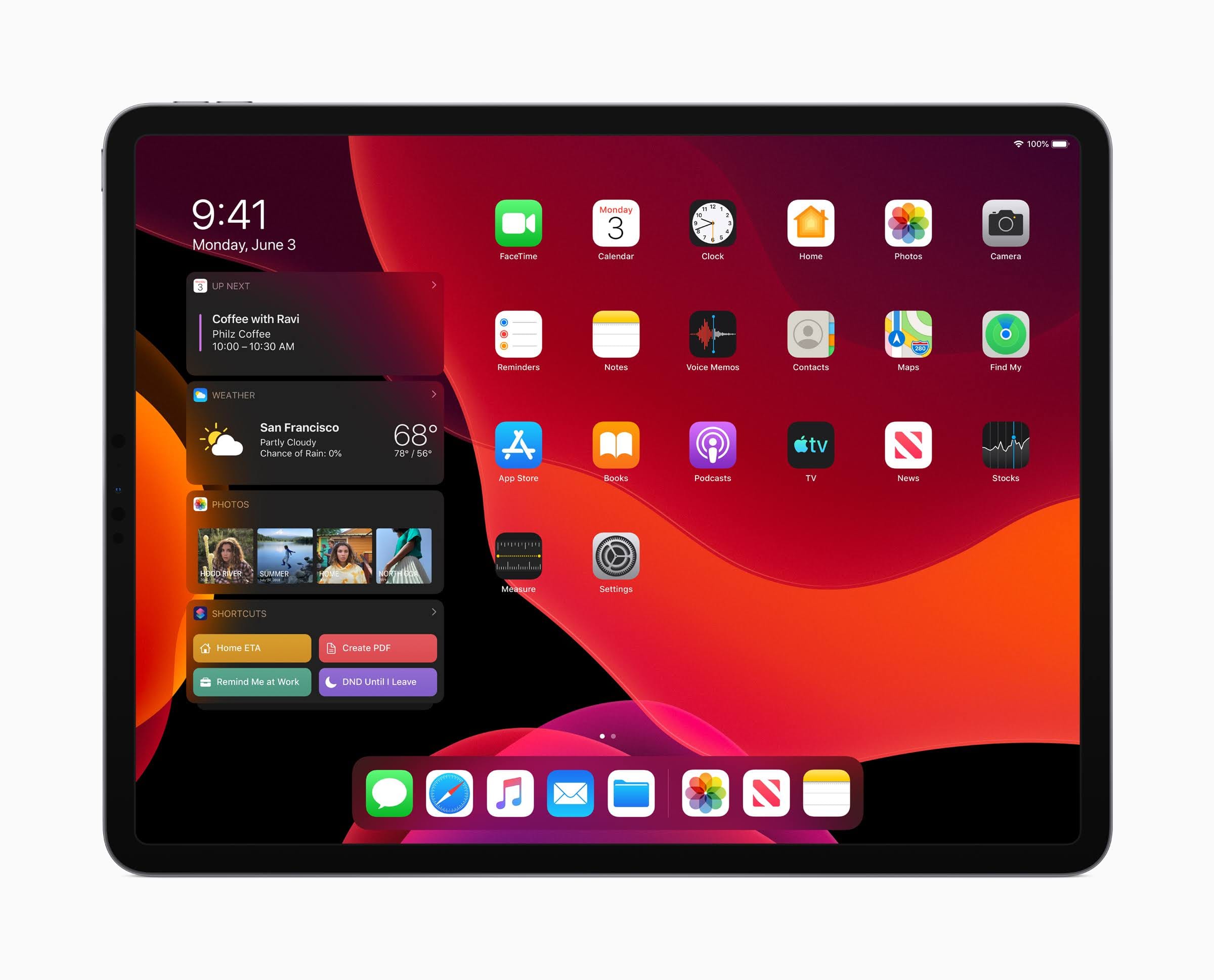 Throughout previous versions of iOS, the iPad used the same layout as on iPhone not using the screen size to its full potential. The new home screen uses a tighter grid allowing more apps to fit on the screen. Now instead of sliding around to get to your widgets, you can pin them to the left of the first slide of apps on your home screen.
Multitasking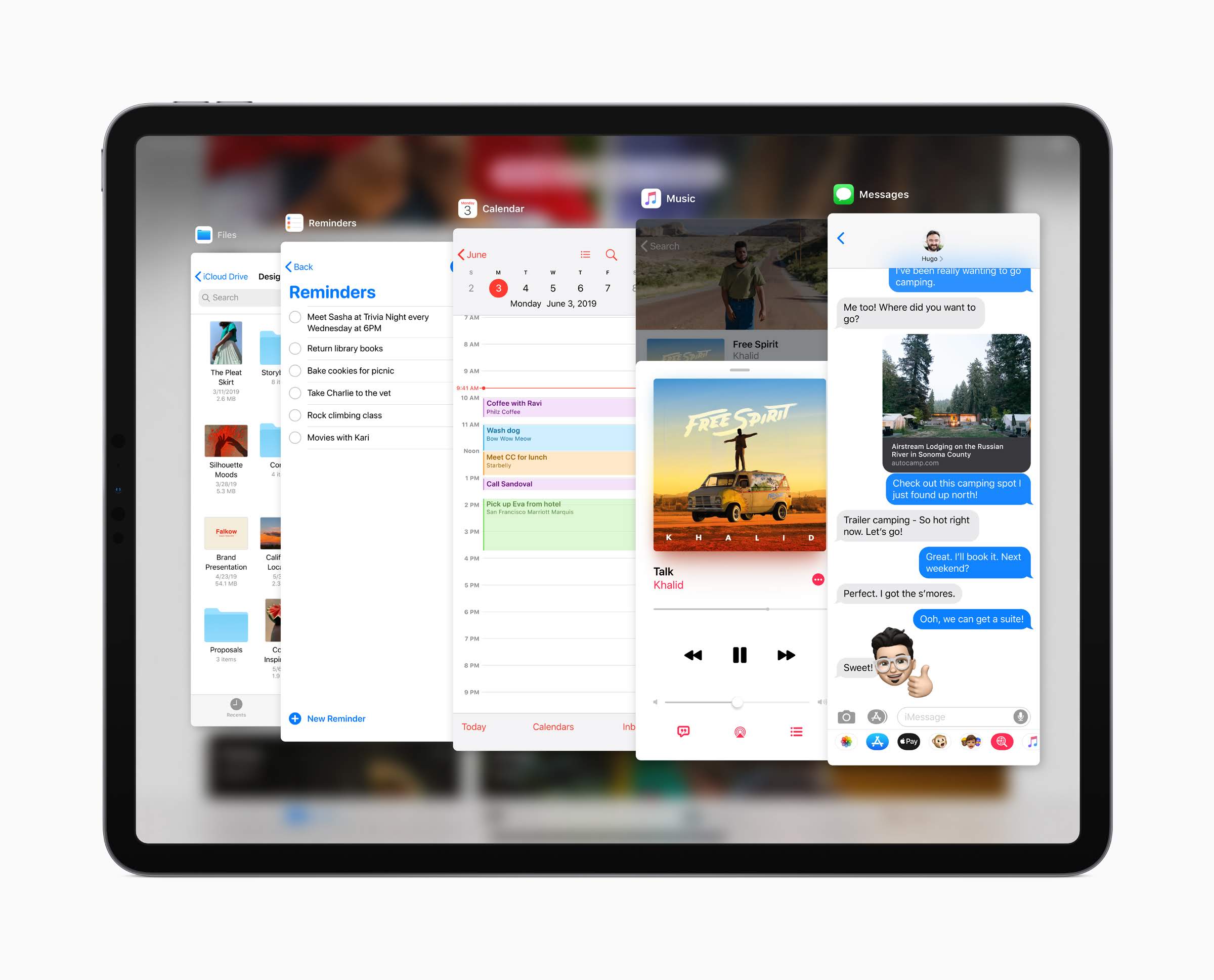 Multitasking has been around for a while. Through every update, it has gotten little improvements making it better. In slide Over, where you layer an app over another, there is an app switcher. So like in multitasking you can have multiple apps open and switch between or close them. Slide Over now works like a mini iPhone. There is a little home button bar that you can swipe left or right to switch between apps, swipe up to view all the open apps. Once in multitasking, you can swipe up from the app removing it from Slide Over.
A new feature, you can have multiple windows for the same app. This is especially helpful if you what to edit multiple Word documents at the same time. Then, you can use App Exposé to view all of the windows for one app.
Apple Pencil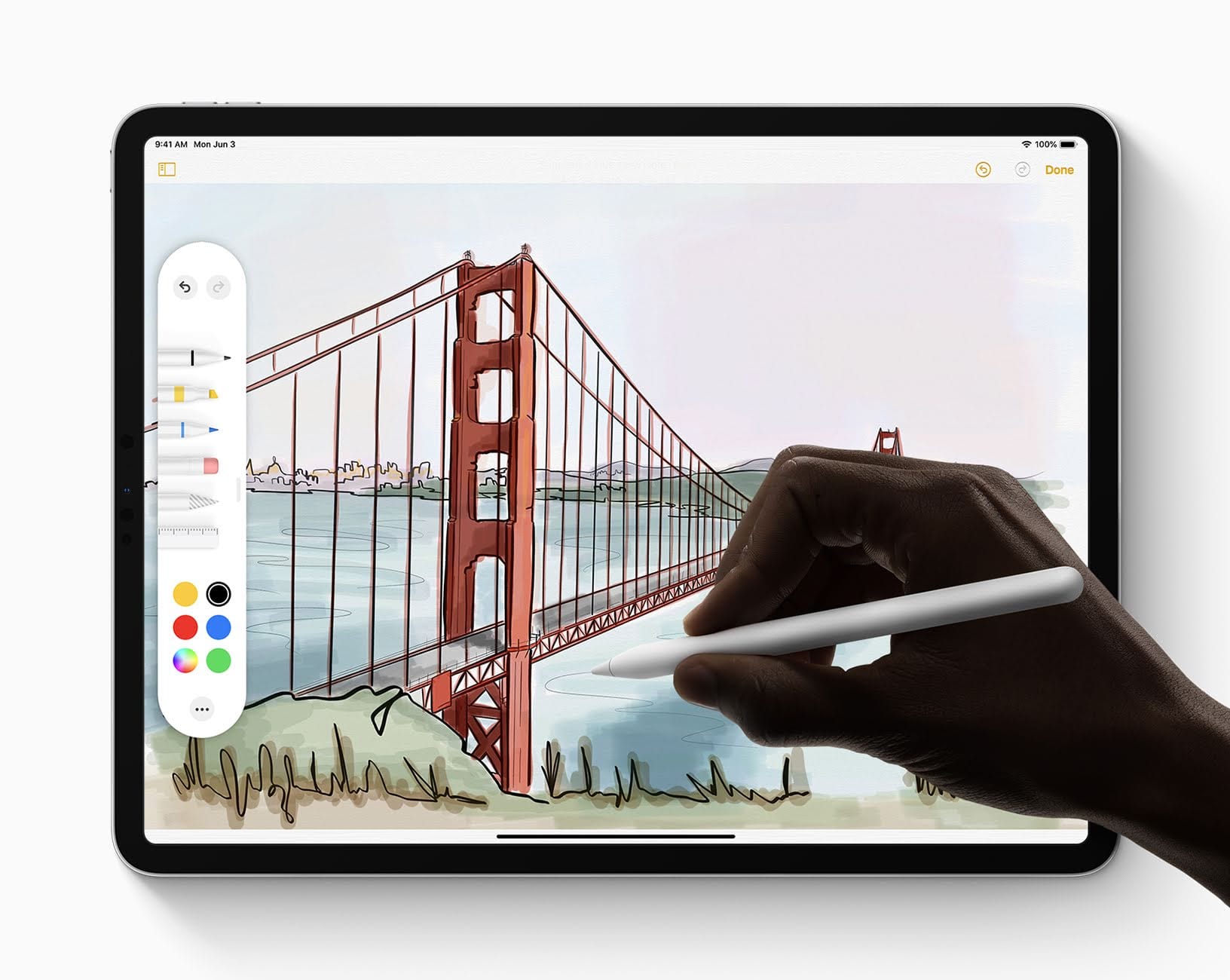 If your an Apple Pencil user Apple says they lowered the latency down to 9 milliseconds.
You can take a screenshot using your Apple Pencil by dragging the pencil up from the bottom corner. Screenshots have the power to capture more than what's on-screen, you can capture an entire document, website or email. There is a redesigned toolbar for annotating screenshots. You can move the toolbar around the screen or minimize it for more space to work.
Sidecar
You can turn your iPad into an external monitor for your Mac using Sidecar. You can plug in your iPad into your Mac or use it wirelessly up to 10 meters away. It comes will Apple Pencil support. Your Apple Pencil turns into a muse for your Mac for more accurate drawing whether in Photoshop or any other painting or drawing app.
Keyboard, Fonts, and Formatting
iPad got the same formatting and keyboard tools as on iOS 13 but with a bit more.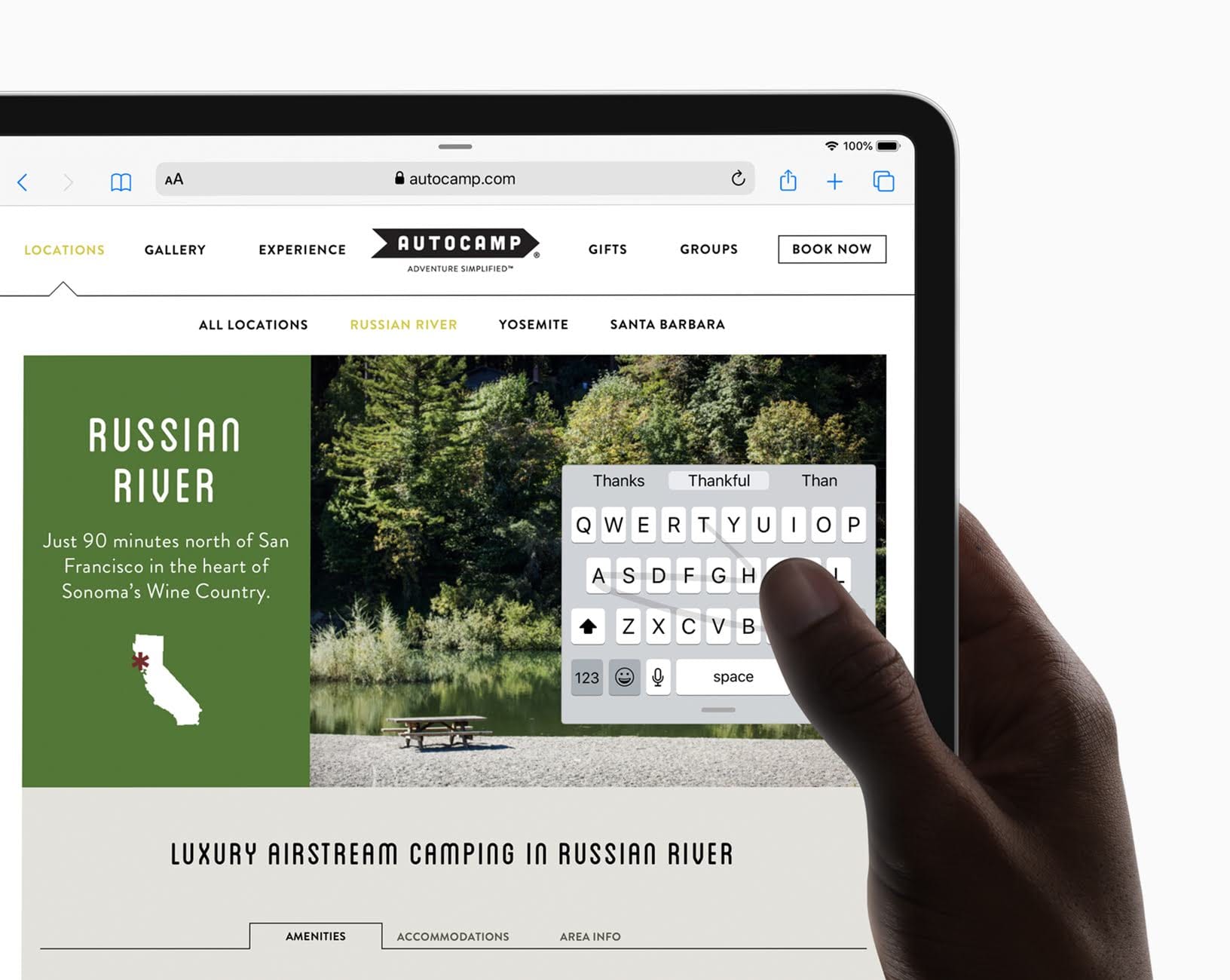 The full-size keyboard can be shrunk and float anywhere around the screen, then use QuickPath to quickly type with one hand.
When navigating long documents a scroll bar is provided along the side.
Just as on iOS 13 the same cut, copy, paste, undo and redo gestures are the same. You can change your font across iOS and have more formatting tools in Mail.
Files
I know I said I wasn't going to cover iOS 13 features over but this iOS 13 additions to Files make it an actual file manager for the iPad and is worth talking about again.
The Files app was gesture ​in iOS 11 with a lot of potential and a file manager for iOS. All this time all it could do is be a file browsers for your cloud service and wasn't very useful. Now it is!
You can finally access your device's local store actually being able to use all 1TB of your new iPhone. You can connect to file servers like your home PC and plug-in external thumb drives and camera SD cards.
In Safari you can download files using the built-in download manager. Then access the file through the Files app.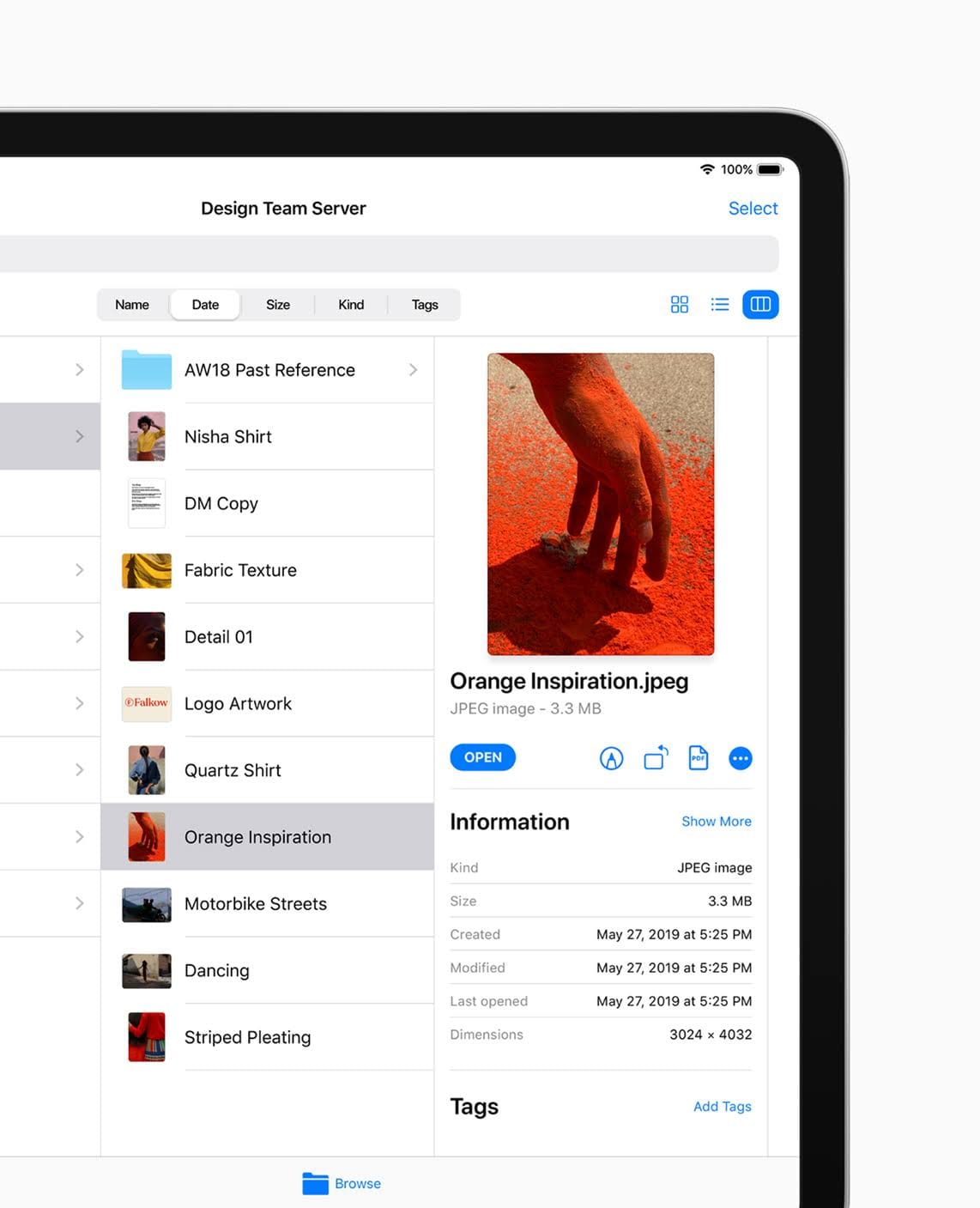 Lastly, while previewing files you will see more metadata including the file size, preview, dates, tags, and more.
Safari
Safari got some changes making it work and feel more like a desktop browser.
All websites request a desktop version of the site. Previously sites like Google Docs would load the mobile site and refer you to the App Store app. Now sites like Google Docs allow you to edit documents and more in the Safari Browser.
Apple recently added site settings for Safari on macOS. Now those features are coming to iPadOS. In a dropdown menu, you can choose what to give the site permission to access like the camera, microphone, and location. Then decide how you want to view the site being desktop or mobile version or use reader view. If you use content blockers you can set them not to work on certain sites.
If you're like me you have hundreds of tabs open, and sometimes of the same thing over and over. In iPadOS when you try to go to a site that is already open in another tab, you will be redirected to that tab.
When sending a site in an email you can now choose whether to send the site link, a PDF of the site, or the page in reader view.
Everything Else
If you want to hear about the other cool things coming to your iPad check out what's new with iOS 13
Supported Devices
12.9-inch iPad Pro
11-inch iPad Pro
10.5-inch iPad Pro
9.7-inch iPad Pro
iPad (6th Generation)
iPad (5th Generation)
iPad mini (5th Generation)
iPad Mini 4
iPad Air (3rd generation)
iPad Air 2
Reviews of iPadOS 13
Helpful Links