It's Tuesday, September 12, 2017, and it's time for Apple to unveil some new tech gadgets. Today's event will be the first to take place in Apple's new Steve Jobs Theatre at their new "spaceship" headquarters called Apple Park. Today they are expected to release new iPhones, Apple watches, AppleTVs, and so much more.
What to expect
iPhone
There have been so many rumors about the new iPhone. Being the 10th anniversary of the iPhone we are expecting it to be good. Rumors say that Apple will release 3 new iPhones the iPhone 7s and 7s Plus and a special edition phone. The special edition is said to be called iPhone X or iPhone 8 and rumored to start at $1,000. This new iPhone is planning on dropping the home button and Touch ID in favor of facial recognition. Rumors have also said that there is a chance that the Apple logo on the back feature Touch ID instead of the home button. The screen should have an edge to edge OLED display.
AppleTV
The AppleTV is rumored to get a refresh too. It's said to be able to support 4K and HDR. It could also feature an A10x processor. Today is also the day we expect Amazon to launch its Amazon Prime Video App for tvOS.
AppleWatch
The Apple Watch is thought to get a refresh too. The new Apple Watch is expected to be faster and expected to have LTE compatibility to help make it more independent from the iPhone. With the addition of LTE and the recent acquisition sleep tracking hardware company Beddit, there might be a bigger battery with possible longer life.
New OSs
Apple is also expected to release it set an official release date for all of its new OSs including macOS High Sierra (macOS 10.13), iOS 11, watchOS 4, and tvOS 11.
macOS High Sierra
Release Date: 9/25/17
macOS High Sierra will bring support for Apple's new Medal 2 which adds support for external GPUs and better machine learning. Editing photos in Photos will have new professional features. In Safari you will now be able to change website settings like disabling autoplay videos, content blockers, camera, microphone, and more. Mail will get better search results by using a new algorithm and will take up 35% less space. macOS High Sierra will also make the switch to Apple File System or APFS which will provide under the hood improvements.
System Requirements:
iMac (Late 2009)
MacBook (Late 2009)
MacBook Air (Late 2010)
MacBook Pro (Mid 2010)
Mac mini (Mid 2010)
Mac Pro (Mid 2010)
iOS 11
Release Date: 9/19/17
iOS 11 features so many new changes so here are a few of the most notable. One of the two most notable design changes comes to the lock screen. When you swipe down to open Notification Center instead you get the lock screen page. In order to view past notifications swipe up. The second big design change is the Control Center. Instead of swiping left to right, you swipe up and down to view more commands and long press/3D Touch to see more options. You can also add and remove commands by going into settings. There is also the addition of the Files app which will operate as a file manager. There is also Drag and drop so you can easily drag things around and select more than one item. This feature is especially helpful for moving around applications on your home screen. The biggest improvement comes from the iPad. An iPad running iOS 11 will now have a customizable dock that can hold up to 15 apps It can be brought up from within the application by swiping up a little from the bottom of the screen. Swiping up from the bottom to the top of the screen will pull up multitasking and the Control center. Also, there is Do not Disturb while driving which will stop all push notifications from coming through while you are driving. The last thing is the new way to manage storage. iOS 11 will now recommend ways to save space like offloading unused apps, auto-deleting messages, and more.
System Requirements:
iPhone 7
iPhone 7 Plus
iPhone 6s
iPhone 6s Plus
iPhone 6
iPhone 6 Plus
iPhone SE
iPhone 5s
12.9-inch iPad Pro
2nd generation
12.9-inch iPad Pro
1st generation
10.5-inch iPad Pro
9.7-inch iPad Pro
iPad Air 2
iPad Air
iPad
5th generation
iPad mini 4
iPad mini 3
iPad mini 2
iPod touch
6th generation
Click here to learn more.
watchOS 4
Release Date: 9/19/17
A few new features included with watchOS are new watch faces including Disney Toy Story and Siri. In health, there is a new Quickstart function and gym equipment integration. Also, third-party apps should load faster.
System Requirements:
Apple Watch 1st Generation
Apple Watch 2nd Generation Series 1
Apple Watch 2nd Generation Series 2
Click here to learn more
tvOS 11
Some new features coming with tvOS 11 are Home screen sync and automatic dark and light mode.
System Requirements:
But What Really Happened Was
Tim Cook CEO of Apple Inc. started out today's keynote by dedicating it to Apple's co-founder Steve Jobs. He then moved on to speak out about Apple's efforts to help raise money for hurricane relief by working with Hand and Hand and the American Red Cross. Then the head of Apple retail Angela Ahrendts took the stage to inform the public on how the store design upgrades were going and update us on the status of Apple Park.

iPhone
Today Apple unveiled 3 new iPhones so here they are…
iPhone 8 and 8 Plus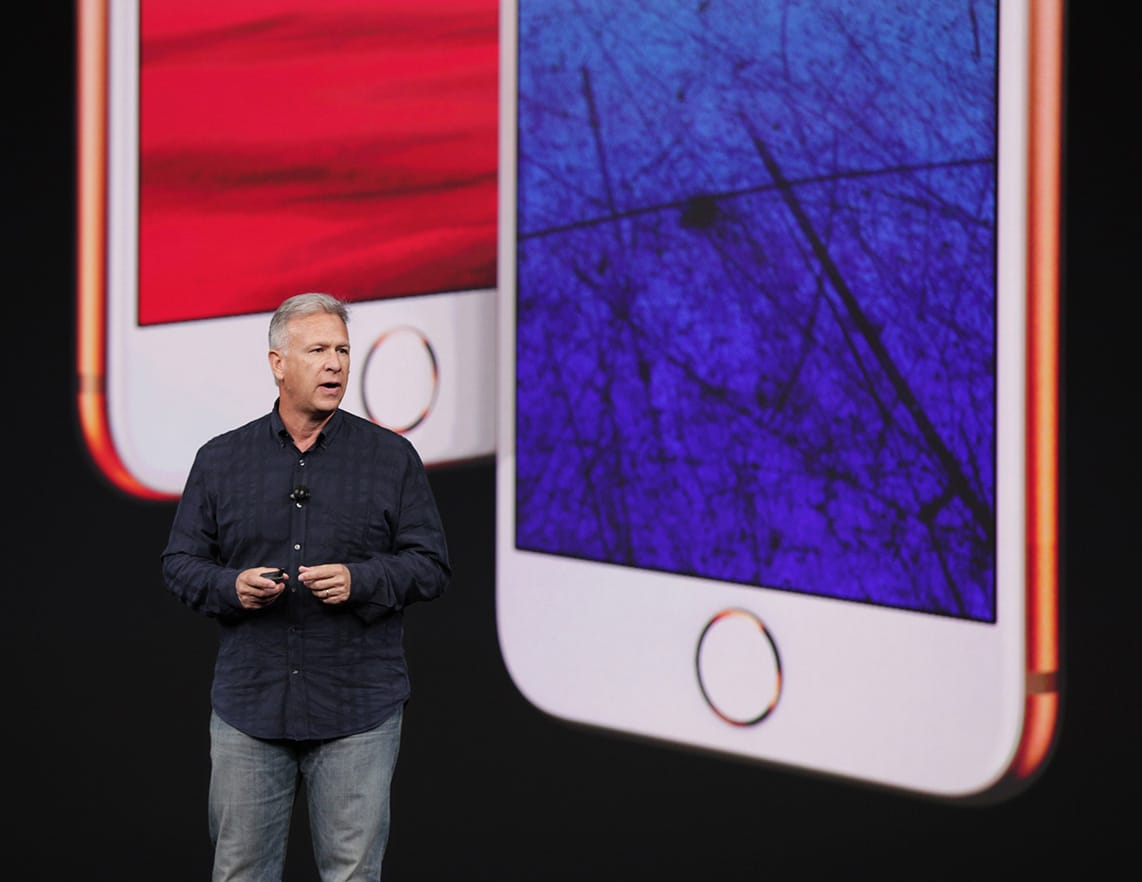 The iPhone 8 is made from an "Aerospace-grade aluminum" covered in glass which is then reinforced by an aluminum structure. This new phone comes in space gray, silver, and gold finishes. Apple says that it is the "Most durable glass ever in a smartphone". It is also microscopically sealed making it water and dust resistant. The iPhone 8 has a 4.7″ and 5.5″ "Super Retina display". The display still supports 3D Touch and now has a True Tone cinema wide color gamut display. To go along with the cinema wide color gamut display are stereo speakers that are 70% than the ones found on the iPhone 7.
Inside there is a new A11 Bionic chip. This new chip has a 6-core CPU and 4.3 billion transistors. According to Apple compared to the A10 the 2 performance scores are 25% faster, the 4 High-efficiency cores are 70% faster, and the 2nd Generation Apple Designed performance controller is 70% faster-multithreaded workloads. Also, Apple states that the Apple-designed GPU is 30% faster than the A10 and consumes half the power.
The Apple Image Signal Processor (ISP) has faster low light autofocus, an improved pixel processor, and hardware enabled multiband noise reduction. The new camera on the iPhone 8 is a 12MP camera with an all-new sensor, deeper pixels, new color filter, and optical image stabilization. The new camera on the iPhone 8 Plus is a 12MP dual camera and also has all-new sensors, with a ƒ/1.8 and ƒ/2.8 apertures and optical image stabilization. New with video on the iPhone 8 is the new Apple Designed video encode that offers faster video frame rates and real-time image and motion analysis which help to now be able to shoot in 180p at 240fps. The cameras have also been updated to support augmented reality by making the cameras calibrated for AR in the factories, low light, 60fps, the new gyroscope and new accelerometer, and accurate motion tracking. The new processor the A11 Bionic offers CPU for world tracking and scenes, GPU renders for realistic graphics, ISP realtime lighting.
The iPhone 8 now works with LTE Advanced and Bluetooth 5. Now with the glass back, wireless charging is also an option. Wireless charging uses the Qi system. For now, you will have to rely on 3rd-parties like Belkin and Morphie until Apple releases AirPower later in 2018.
What's New Roundup:
Glass and Aluminum design
Retina HD display with true tone
A11 Bionic
12MP camera
12MP dual camera (iPhone 8 Plus)
Portrait Mode and Portrait Lighting (iPhone 8 Plus)
Quad-LED true tone flash
Slow sync flash
TouchID
LTE Advanced
Bluetooth 5
Stereo Speakers
Water and dust resistant (IP67)
Wireless Charging
Fast charge capable
Pricing
iPhone 8 64GB – $699
iPhone 8 256GB –
iPhone 8 Plus 64GB – $799
iPhone 8 Plus 256GB –
Pre-order starts on September 15 and shipping starts September 22


Links:
iPhone X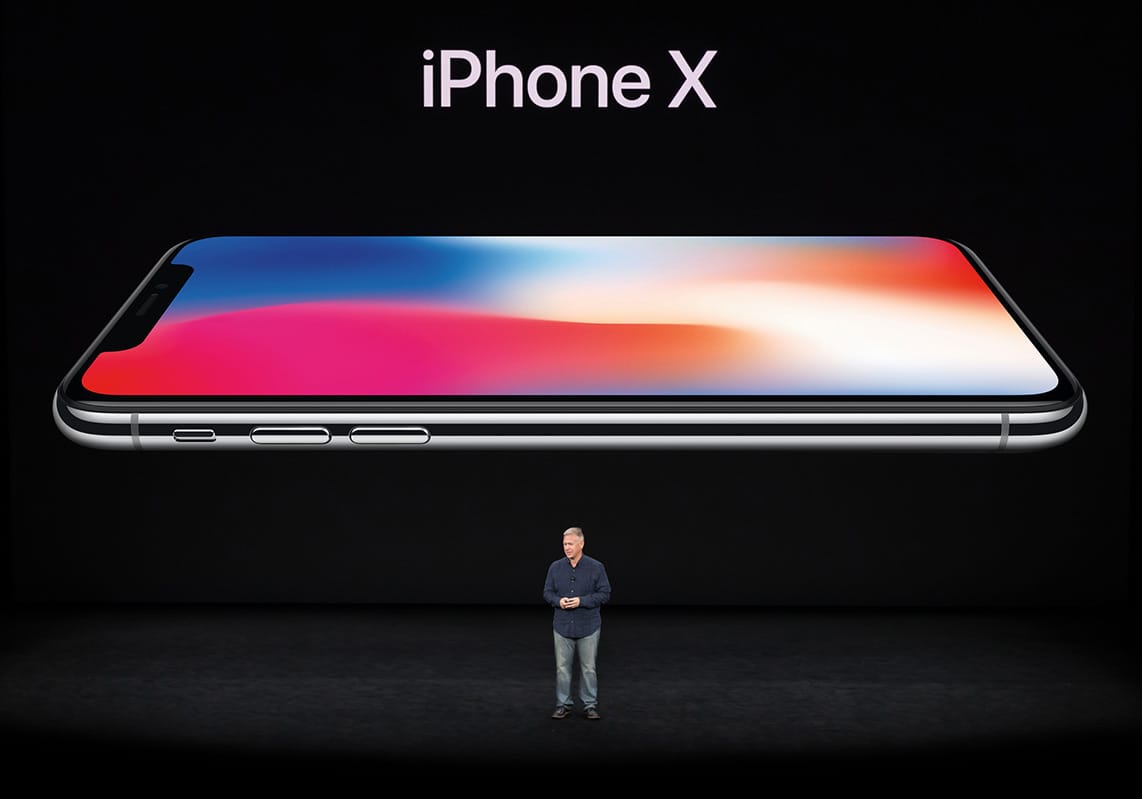 The iPhone X comes with a beautifully designed edge to edge super retina OLED display. The display is 5.8″ on the diagonal, 2436×1125 pixels, and 458 pixels per square inch (PPI). The display also supports HDR, Dolby Vision, 1 million to 1 contrast ratio, color accuracy, 3D Touch, and is a True Tone display. It uses the same glass design as the iPhone 8 with a space gray or silver finish. Like iPhones 7 and 8, the iPhone 10 is water and dust resistant (IP67). The most noticeable difference in iPhone X I the missing home button. All of the functions that you used to do with the home button have been changed to gestures. To start off with to wake your phone you can use raise to wake or click the sleep/wake button and now you can tap anywhere on the display to wake. In order to access the home screen slide your finger from the bottom of the screen to the top and to access multitasking slide your finger from the bottom of the screen and go halfway up and pause. To open Control Center slide down from the top right of the screen. To activate Siri hold down the sleep/wake button. The iPhone X also now features FaceID which will replace TouchID. FaceID lets you unlock your phone just by looking at it by using TrueDepth cameras on the front of the phone. The only way to unlock your phone with FaceID is by looking at it and blinking so it will not work on photos. Just like TouchID your face is stored locally on your iPhone and does not get sent to a server. Also like TouchID, it works with Apple Pay and any other 3rd-parties that now support TouchID. Using the TrueDepth camera that is used to capture your face for FaceID it is also used for Animojis. Animojis are emojis that you animate with your face.
The camera is the same as the one found on the iPhone 8. This camera has 12MP dual cameras and also has all-new sensors, with a ƒ/1.8 and ƒ/2.8 apertures and both lenses have improved optical image stabilization. Using the TrueDepth front camera you can now take Portrait mode selfies using the new portrait lighting.
Feature Roundup:
5.8″ Super Retina Display
Glass and Stainless Steel design
FaceID
12MP dual cameras with dual OIS
TrueDepth camera
A11 Bionic
Quad-LED True Tone Flash
Slow Sync flash
Portrait mode (front and back)
Portrait lighting
Animoji
LTE Advanced
Bluetooth 5
Stereo speakers
water and dust resistant
wireless charging
fast-charge capable


Links:
Apple Watch Series 3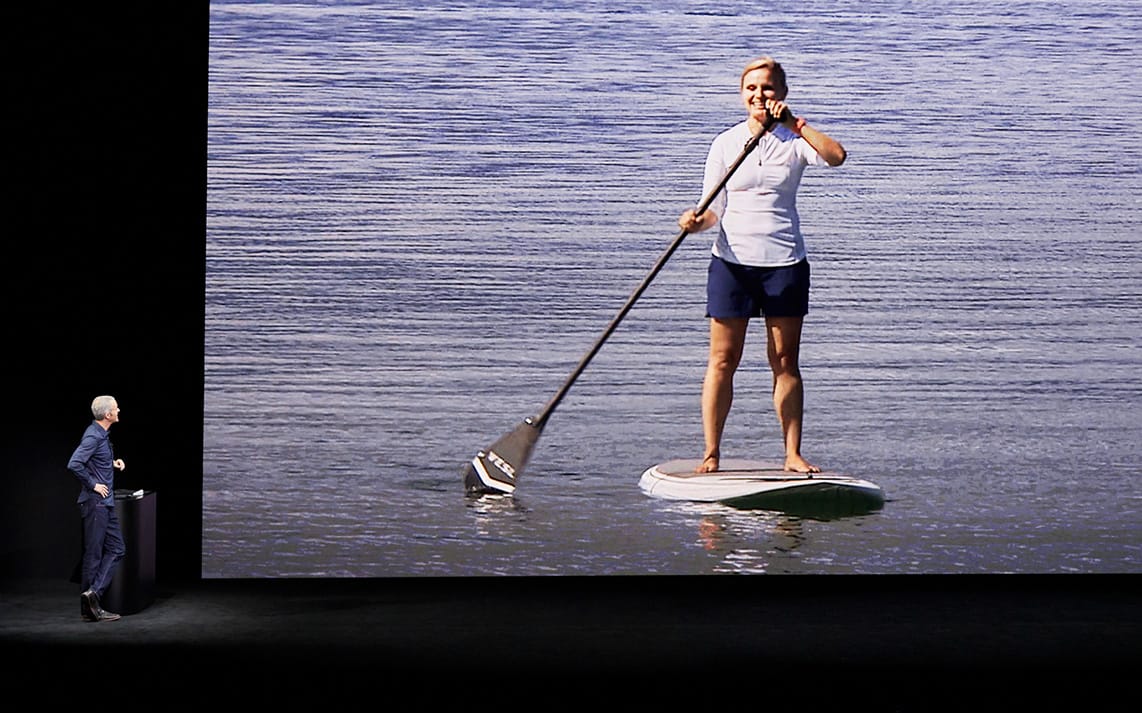 The biggest feature of the new Apple Watch is the support for wireless connectivity. The support for wireless makes it more independent from your iPhone. One of the greatest uses is its ability to stream music, answer a call, reply to messages, and get directions all without your iPhone. Inside is a new dual-core processor that Apple says can deliver 70% more performance. Now Siri can reply to commands. All WiFi goes through the new Apple-designed W2 chip delivers 85% faster WiFi and 50% more power-efficient. The Barometric antimatter can now count flights of stairs. For wireless instead of adding antennas, they made the screen multifrequency antenna for LTE and UMTS. They did not add in a SIM card slot because it would make the watch too big so instead they added in an electronic sim that's is a fraction of the size. Making all of these compromises makes the watch the same size as the watch series 2. This new watch comes in gold, silver, space gray, and black and white ceramic and works with all of the Apple Watch bands.
Top Features:
Cellular
GPS
Swimproof
70% faster dual-core processor
W2 wireless chip
Barometric Altimeter
All-day battery
WatchOS 4
Pricing
Series 1: $249
Series 3 with cellular: $399
Series 3 without cellular: $329
Wireless Support Carriers
United States
AT&T
Sprint
T-Mobile
Verizon
Canada
Australia
Optus
Telstra
Vodafone (coming by the end of 2017)
China
China Unicorn
China Mobile (coming by the end of 2017)
China Telecom (coming by the end of 2017)
Japan
United Kingdom
Germany
France
Switzerland
Sunrise (coming by the end of 2017)
Swisscom (coming by the end of 2017)
Pre-order starts September 15 and will be available on September 22.

Links:
Apple Watch Series 3 Press Release
AppleTV

Also today Apple released the AppleTV 4K which adds support for 4k HDR. Apple has upgraded the whole user interface along with the aerial screen savers in 4K HDR. Apple has worked to get all of the big filmmakers to offer their 4K content on iTunes at the same price as HD. If you have purchased a film in HD that it now supports 4K Apple will upgrade it to 4K HDR at no additional cost.

The AppleTV 4K runs an A10x that's is found in the iPad Pro. Apple says that the new AppleTV has 2x the CPU performance and there is 4x faster GPU performance. The Apple TV app is also getting an upgrade by adding support for 7 new countries. The new TV app also supports live streaming sports.
Pricing
AppleTV 32GB – $149
AppleTV4K 32GB – $179
AppleTV4K 64GB – $199
Pre-order starts on October 15 and they will start shipping September 22
Links:
Other
During the Special Event today Apple previewed its new wireless charger base called the AirPower. Airpower uses Qi technology which can be used to charge your new iPhone 8, iPhone X, Apple Watch Series 3, and AirPods 2. AirPods 2 is set to be released by the end of the year and feature a wireless charging case. Apple says that the AirPower will not be on the market until 2018 so in the meantime, you will have to rely on 3rd-parties like Belkin and Morphie.
Now none of these features like FaceID and losing the home button are new to the market, in fact, they have been around for a while. So what took Apple so long to bring them to the market? Well, it's a constant trend for Apple to wait until the technologies are perfected and up to their standards. Do you agree with this? Let me know in the comments below.