When you think of a tablet which one comes to mind? iPad? That's what I think of. They are the highest quality most affordable tablets on the market. But, what if I told you there maybe another? This is Amazon's Kindle Fire HD 10 which they sell for $149.99. Released in 2017 this Android tablet may surprise you just as it did me.
Unboxing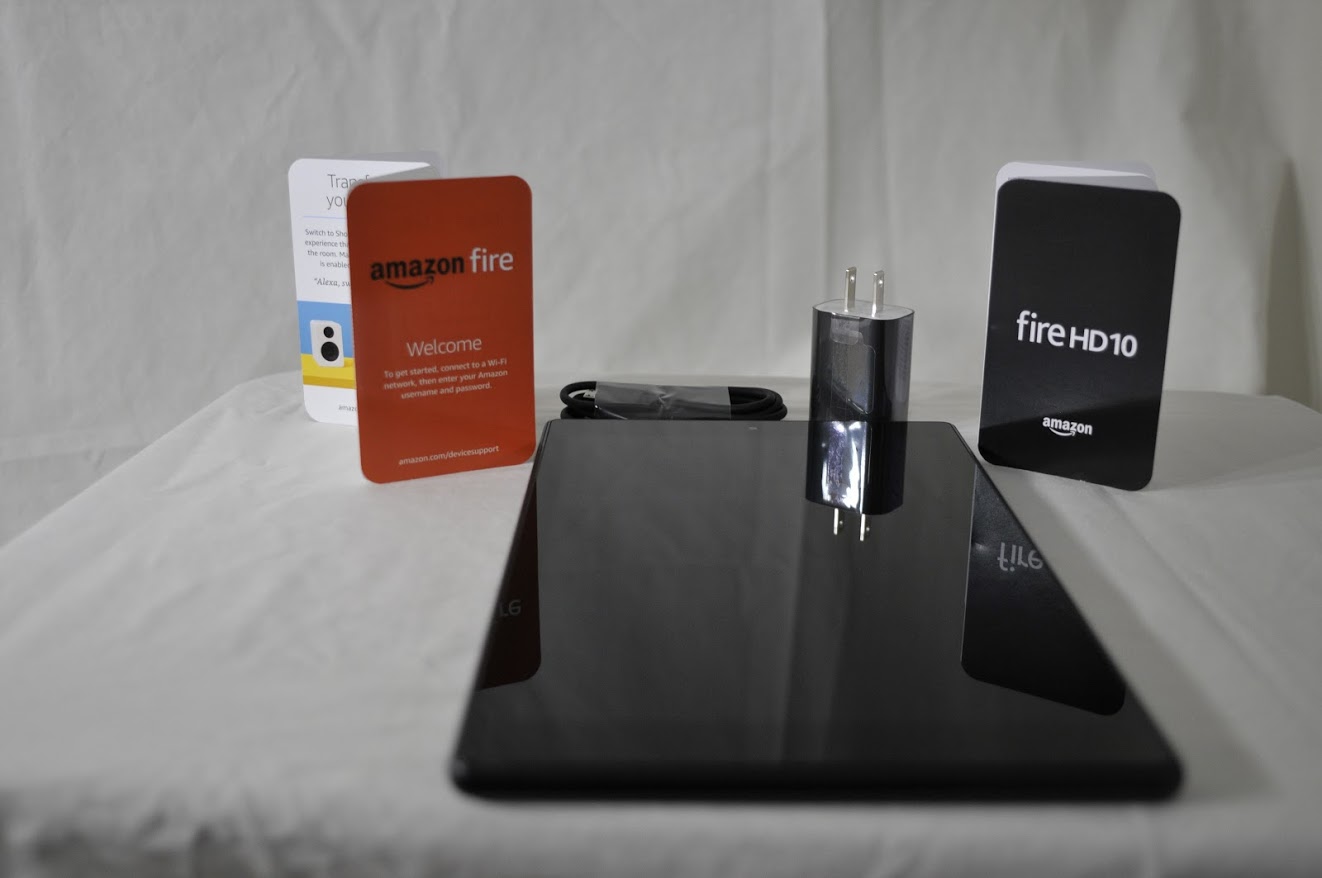 The unboxing is quick and easy, pull on the pull tab and slide out the tray. At the top of the tray is your tightly rapped Kindle covered in plastic with a styrofoam sheet protecting the screen. Underneath the tablet in the cubbies holds the accessories which include the documentation, a 12 watt USB power adapter, and a micro USB cable for charging. That's all there is to the unboxing.
The Rundown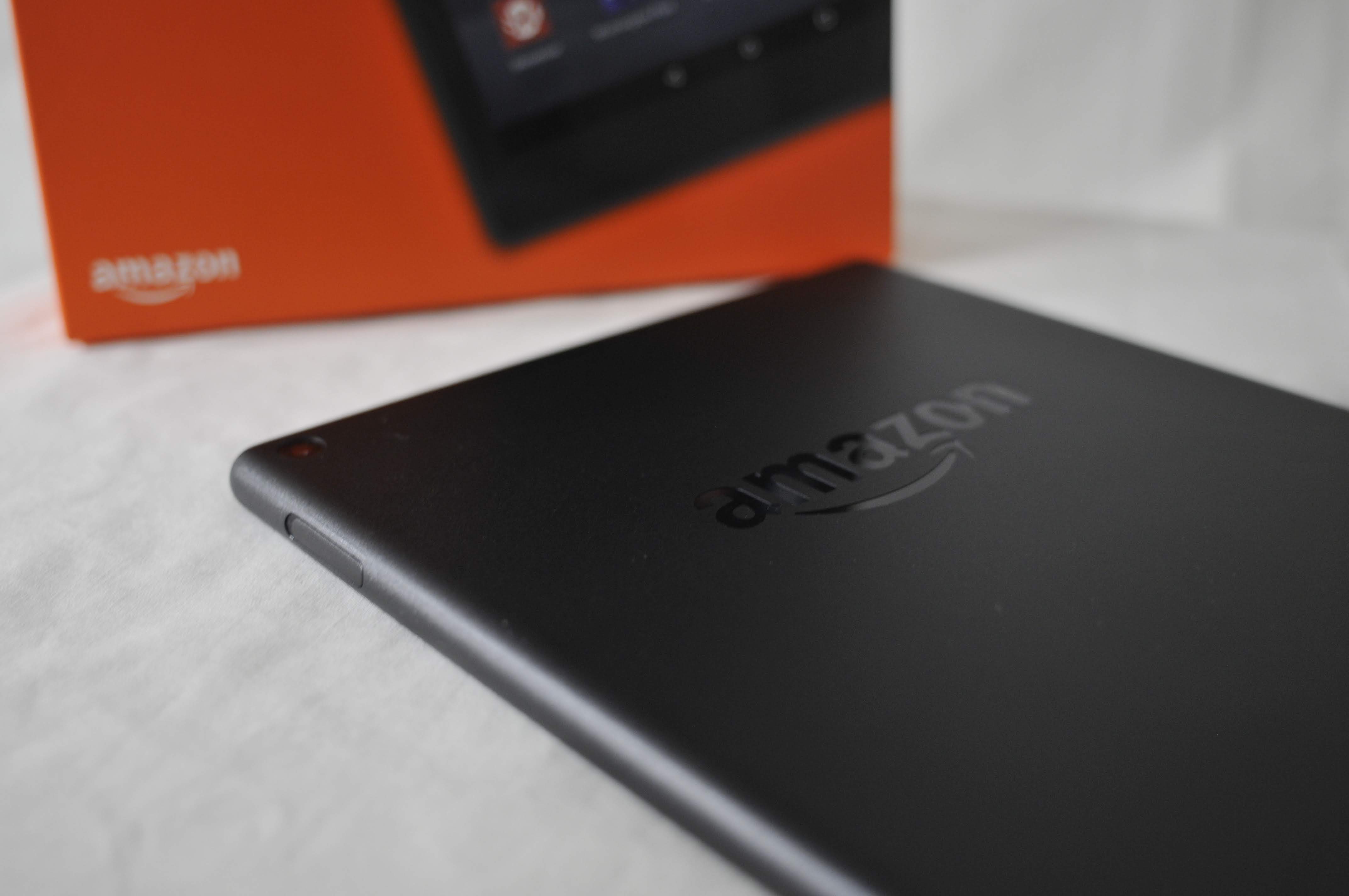 When holding the Kindle Fire HD 10 you instantly feel the quality. It is 10.3 inches tall by 6.3 inches long, weighing in at 17.7oz. The metal back makes the device feel solid with very little flex. The same can not be said about the screen though, it is rather weak. The 10.1″ 1080p HD (1920×1200) panel is not bad, the colors are ok but it's definitely no cinema display. All of the input ports which include a micro-USB and a 3.5mm headphone jack can be found at the top along with the power button and volume controls. When you purchase the Kindle you have two storage configuration options: 32GB and 64GB. If that is not enough, along the left side is a storage expansion port you can use to upgrade the storage to a max 256GB using a micro-SD card. The tablet includes two cameras neither is the best. Amazon describes the front camera as just VGA while the rear is a 2MP HD (720p) camera. The feeds lag, the view is definitely borderline HD, and very washed out. Overall not the best experience, but at this price point acceptable.
Setup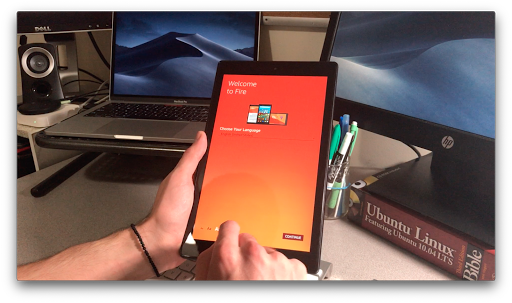 The setup is as easy as choosing your language, connecting to WIFI, then signing into your Amazon account. If you don't have an Amazon account under the login button you can create one. Now there are a few setup options starting with restoring from a backup, location services, saving Wi-Fi passwords to Amazon account, uploading photos and videos to your Amazon account through Amazon Photos. Before you get to the home screen of your tablet there is then a short into video of all the things you can do with your new Kindle, and some ads for Amazon services like Goodreads, Audible, and Kindle Unlimited. Then you're at your home screen.
FireOS
The Kindle runs on FireOS which and Android skin Amazon made specifically for their Kindle line of tablets. If you are heavily invested in Amazon's ecosystem then you probably won't mind the fact that everywhere you slide is another Amazon service. Sliding over to Books will take you to your Amazon Kindle books, Video will take you to Prime Video, Shop is Amazon.com, Music is Prime Music, and Audible. Each of these tabs encourages you to spend money whether that be buying a monthly or yearly subscription service or just going shopping. Although these Amazon apps perform very well and are well optimized for the hardware. The OS is not as fluid as you can find on other Android tablets such as the Samsung Galaxy Tab. One of the cool features that you can't find with many other tablets is the power to have more than one user. In Settings, you can add a user using either an Amazon account or if they are a child under 13 then you can just create a local account. You can switch between users from either the lock screen or notification center. This definitely is a family-oriented device. As for apps, you are constricted to using the very limited Amazon App Store. In the App Store, there are no productivity apps, No Adobe suit, no Google Apps, no Apple Apps, and no high-level games like Fortnite. So, what is this device good for then?
Benchmarking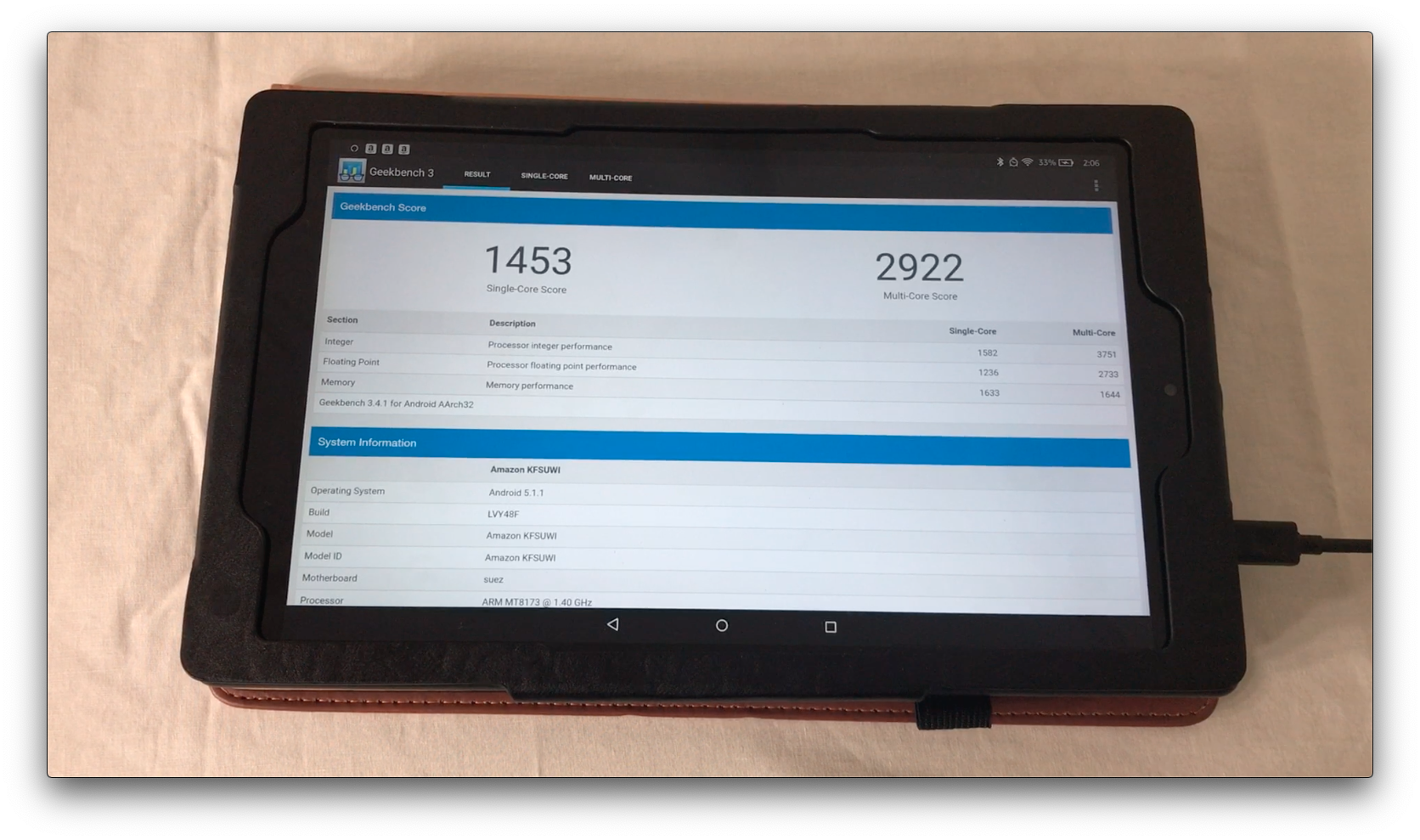 Powering the device is a quad-core processor, which includes two 1.8GHz cores and two 1.4 GHz cores that work with 2GB of memory. When it comes to benchmarking you will see that you won't be playing any console games. In Geekbench 3 the Kindle Fire HD 10 got a single-core score of 1453 and a multi-core score of 2922. In 3DMark with a score 494. So what about real-world performance?
In the Real World
All of the Apps that are found in Amazon's App Store play reasonably well. I was able to play EA's Real Racing which performed way better than expected with little to no hiccups. Skyping was ok, definitely not the best experience but worked. The best use of this tablet is streaming content. Most TV providers and streaming services offer apps for the Kindle. When streaming content for a long period of time I strongly recommend that you get some external speaker or headphones, take advantage of the headphone jack. The speakers are no good, they are quiet, very flat, and just overall not good to listen to.
Not To Compare With an iPad
Going back to the original question, when you think of a tablet what's the first thing that comes to mind? iPad? Microsoft Surface? But none of these devices seem to fairly compare with the Kindle. Each of these devices includes desktop or at least laptop class components. The Kindle, as you can see, is not a replacement for your desktop or laptop like the Surface and iPad are advertised. There is no Google Docs or Microsoft Word and no Adobe Photoshop. The Kindle is a streaming device. It's a super-cheap tablet you can share with the family and watch Netflix, Hulu, or your cable subscription and play some light games, or read a book. Most importantly it's your Amazon hub.
Subscribe: Apple Podcasts | Google Podcasts | Spotify | Amazon Music | Android | Pandora | Blubrry | Email | TuneIn | RSS | More