If you're looking into getting Microsoft Office at home you can purchase it one of two ways, purchasing a monthly or yearly subscription or a one time purchase. However, there are some free alternatives like LibreOffice or iWork. To learn more about those check out our last story on Microsoft Office Substitutes. If a substitute is not the answer your looking for let's find the best way for you to purchase Office.
Price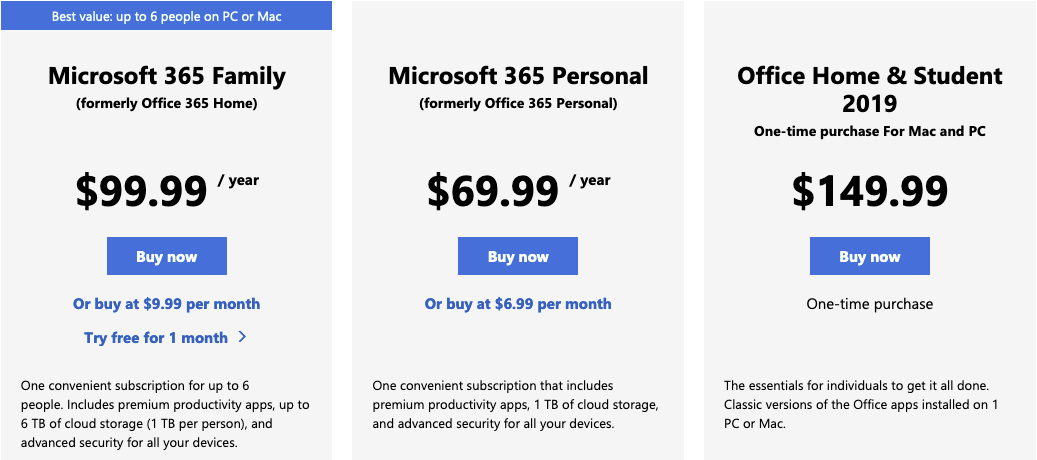 First, let's start with the price. At the moment you can get a one-time purchase of Office for $150 for one computer. With a subscription, it's $7 a month for personal or $10 a month for a family plan with up to 6 members.
Now let's analyze these prices. If Microsoft continues releasing new versions of Office at the same rate, around every three years or so. If you take that $150 and divide it by 36 (for 36 months over those 3 years) you get about $4 a month that is if you plan on always purchasing the latest version of Office when released. That's $3 less than just purchasing the personal subscription.
What comes with a One-Time Purchase of Office?
With a one time purchase of Office, you get Word, PowerPoint, and Excel on one PC or Mac. That's all you get. If you're looking to install Office on more than one computer or have multiple users it may make more sense to get a subscription.
What comes with Microsoft 365 Subscription?
Microsoft rebranded Office 365 into Microsoft 365 in an attempt to highlight other features that are now bundled with the subscription. There are two subscription options, a family plan, and a personal plan. With the personal plan, you can install Word, PowerPoint, Excel, OneNote, Outlook, Access, and Publisher on up to 5 Mac, PCs, iOS devices, and Android devices. With a family plan, you can share your Microsft 365 benefits with up to 6 people. This means that each person can install Office on up to 5 of their desktop and mobile devices.
The next biggest thing that comes with the subscription is 1TB of OneDrive cloud storage per person. 1TB is enough to back up your whole computer to the cloud so you don't lose any data in the case of a computer failure. Alternatively, you can use OneDrive storage to back up your whole photo library so you don't lose a single memory. With your data stored in the cloud, you can access it from any other device around the world.
As a Microsoft 365 subscriber your not stuck with the current version of Office. When the next big version is released just wait for the update to come to your computer. No need to dish out more money for the next release.
Lastly, and this is a big one, free phone or chat support from Microsoft. If you are someone who knows they may be running into problems whether, with account management or using other Office products, this may be appealing.
Those are the highlights of what comes with a Microsoft 365 subscription. Some other side notes include: "AI-powered creative tools" where your computer can help you make design suggestions to your documents. You get a generous 60 Skype minutes so you can call mobile phones and landlines. "Special partner offers" which gives you free trials to Adobe and some other "partners" (nothing big here).
If you're looking to purchase Office you can choose a one-time purchase or a subscription. Personally, I would go with the subscription where I don't have to worry about updates, I can install on all of my devices, and the cloud storage opens many possibilities for backing up all my data, syncing my photos, or just saving a few things here and there. Which option will you go with?
Subscribe: Apple Podcasts | Google Podcasts | Spotify | Amazon Music | Android | Pandora | Blubrry | Email | TuneIn | RSS | More