iOS 12 is coming this fall and along with it will be Apple's attempt to help users separate themselves from their mobile devices, this new feature will be called Screen Time. As I talked about last week, there is Do Not Disturb during Bedtime that will keep you from being distracted by a notification when you are trying to go to sleep. This new feature will let you analyze and set limits on any app that you may use too often.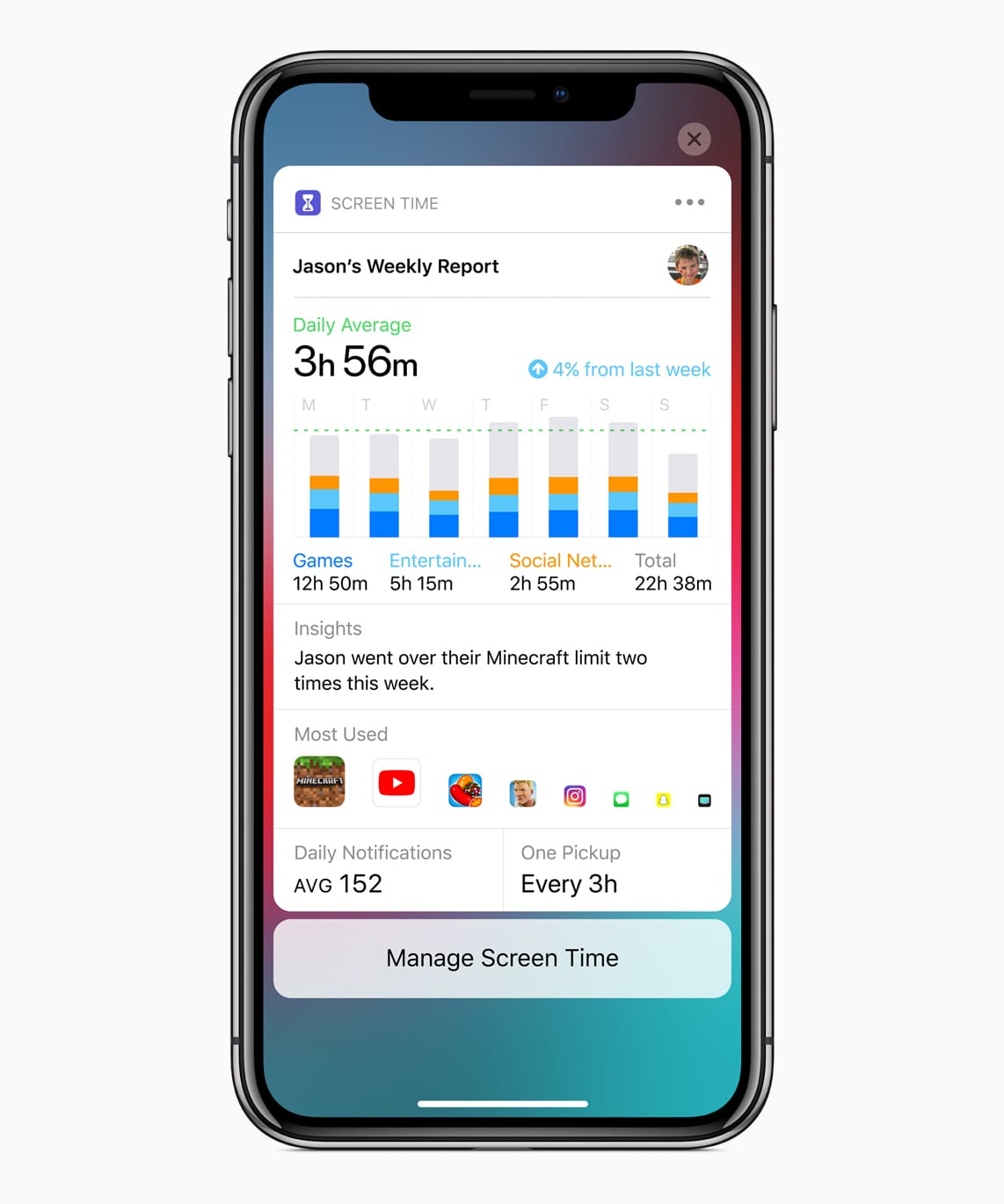 To manage these settings open Settings then find Screen Time, which is under Do Not Disturb preferences. In the Screen Time preferences toggle the "Turn on Screen Time" switch. By turning on this switch your iOS device will begin tracking your phone usage, all of the data will be saved locally to your device unless you choose to sync it to all of your other iCloud devices (I will talk more on this later). Once enough data has been collected, at the top of the settings will be a status bar showing how long you have been in certain app categories.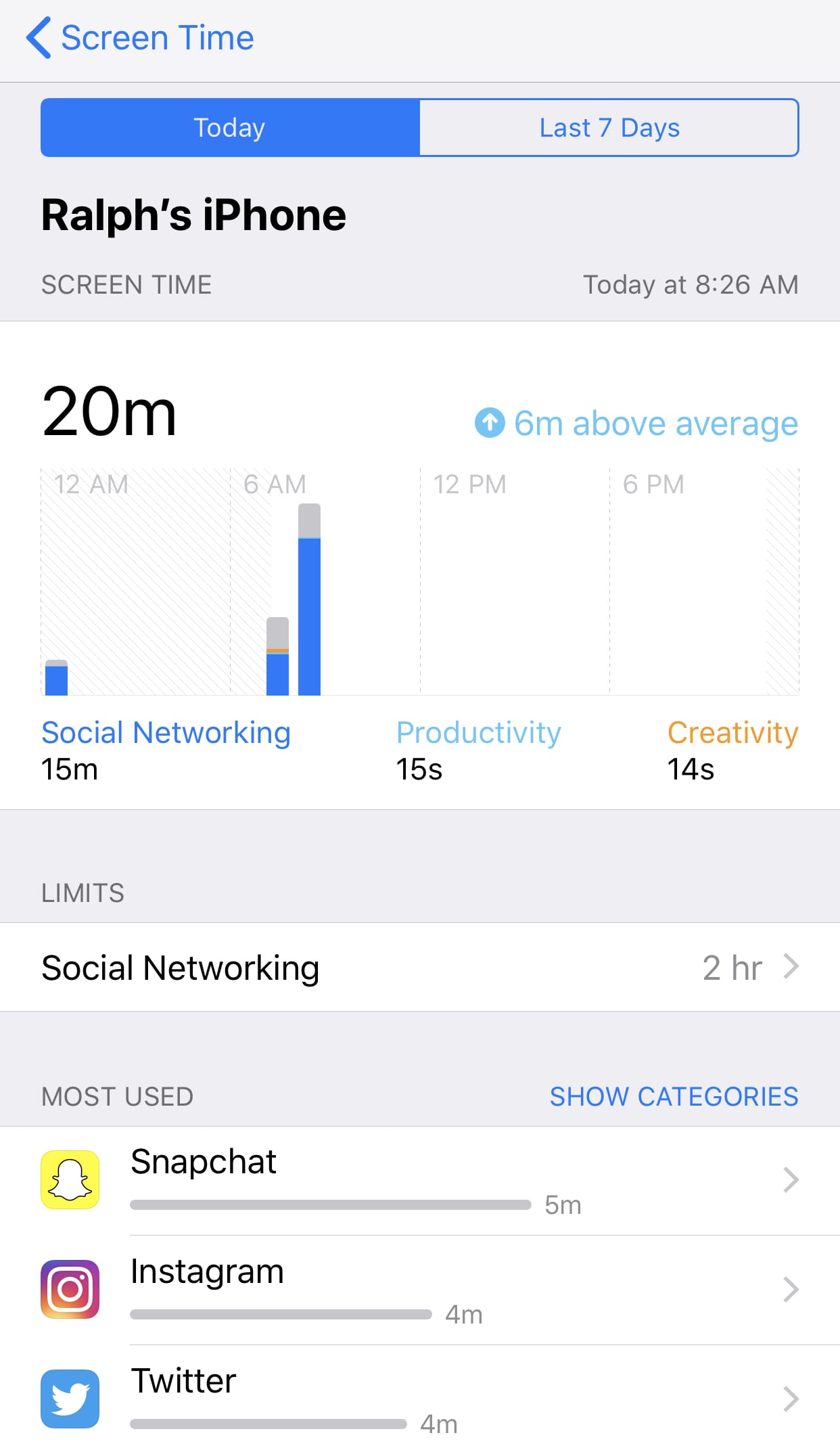 When you tap on that graph you get a more in-depth preview of your phone usage. At the top are two tabs, one for today ("Today"), the other a summary of the last week ("Last 7 Days"). Under the filter option is the "Screen Time" group that displays a bar graph showing which categories were being used at every hour of the selected time period. Under the graph is the "Most Used" group, a list of apps or categories displaying most used to least used, the list can be changed by clicking on "SHOW CATEGORIES" or "SHOW APPS". If you have it listed by category, tapping on any category will give you a list of apps in that category and the amount of time that you spent in each in addition to that category usage, then you can tap on that app for more app usage information. Now if you have it listed by apps you can just click on the app to go straight to that app's usage.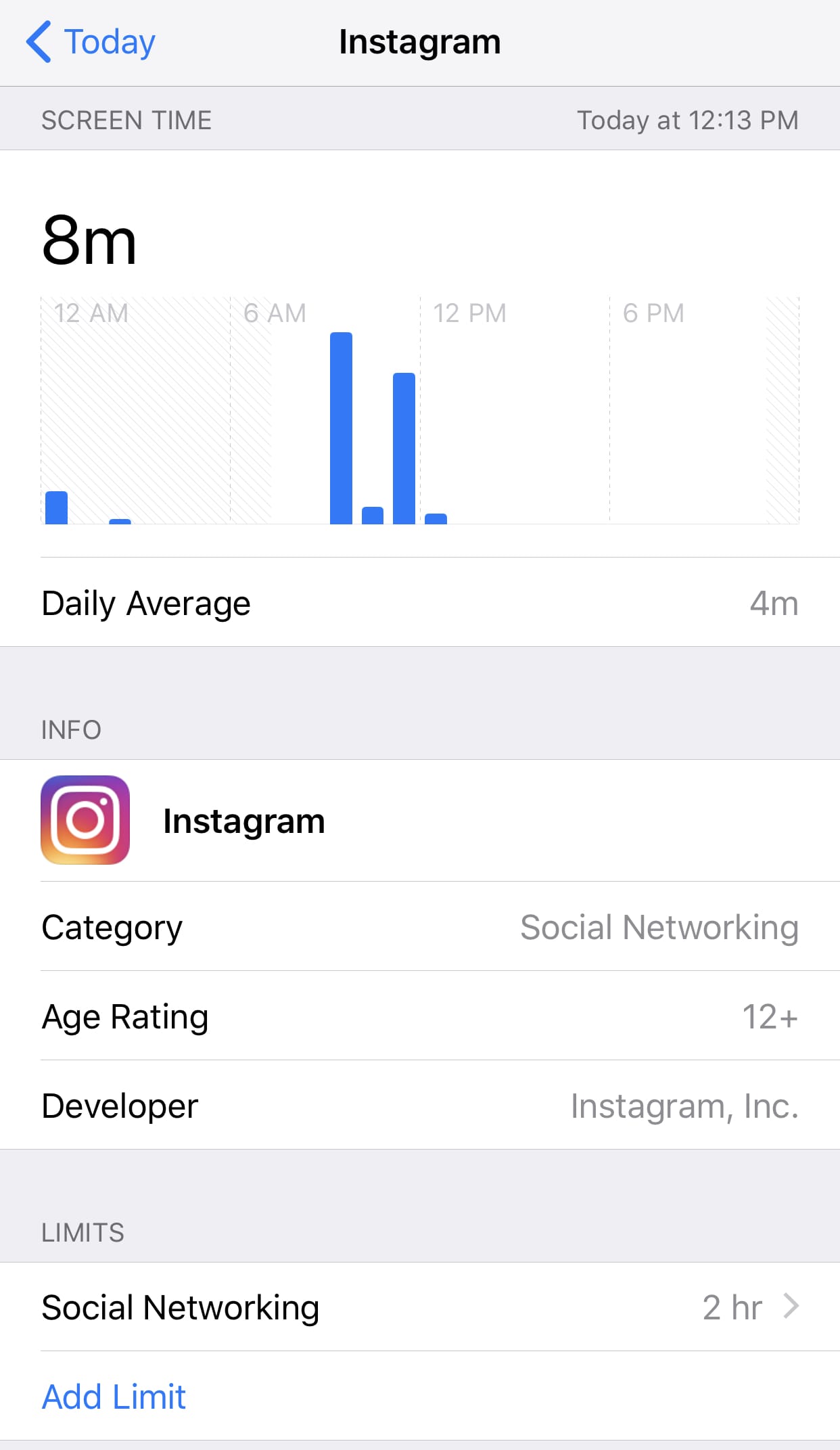 In the app's usage in data, you can see how long the app was on screen, daily average, the app's category, age rating, and developer name.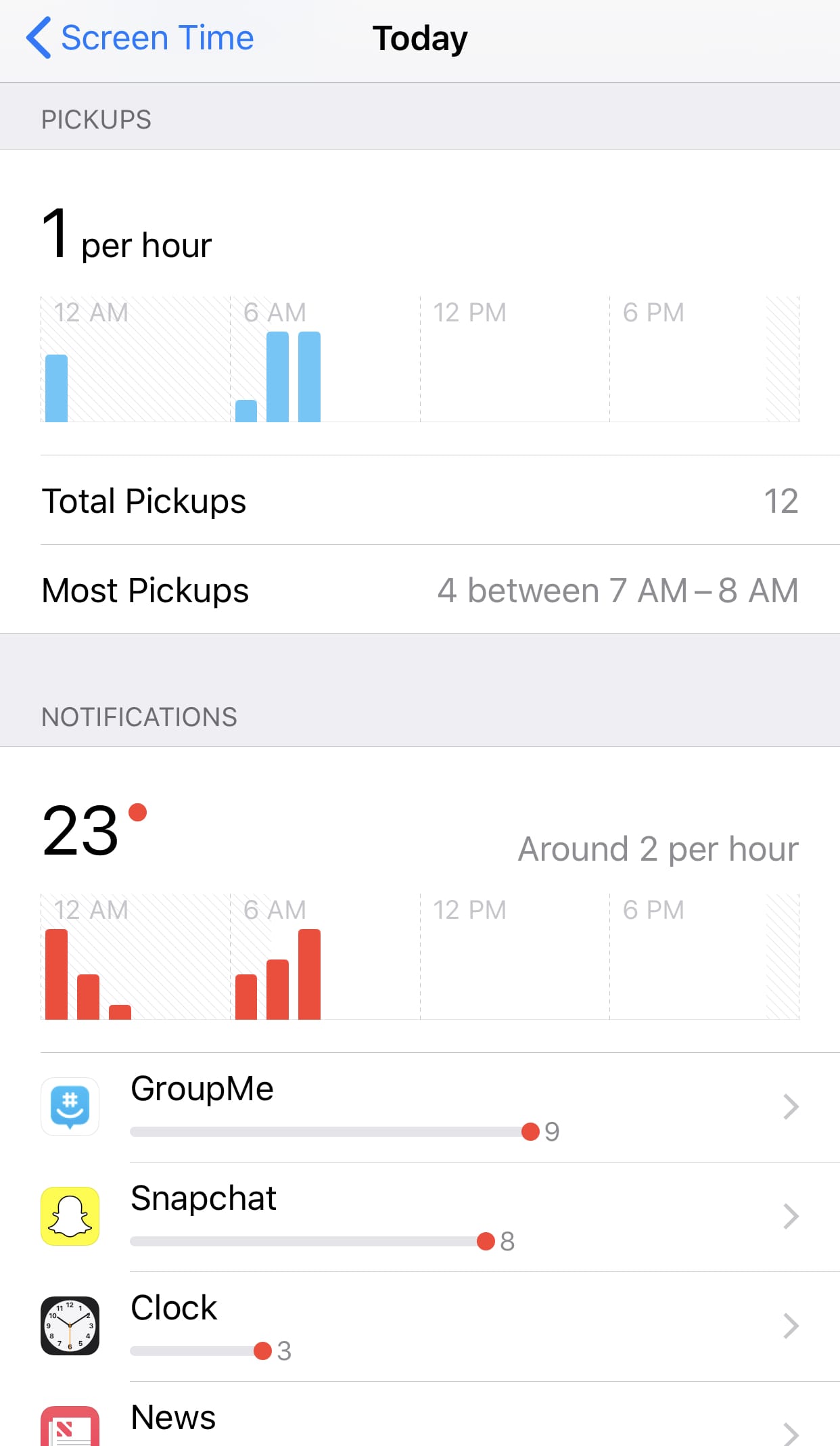 Now going back to the main usage screen, scrolling down past the "Screen Time" and "Most Used" groups, is another chart with data detailing how many times you have picked up your phone in your selected time frame. The last group is "Notifications", giving you once again a chart of how many notifications per app. Beneath the graph once again is a list of apps in order by most notification to least. When you tap on an app you can change it's notifications settings so you don't get bothered by it any longer.
Now let go back to the main Screen Time menu, looking below your device's usage chart, are options for restricting and limiting device usage including Downtime, App Limits, Always Allowed, Content, and Privacy Settings.
Downtime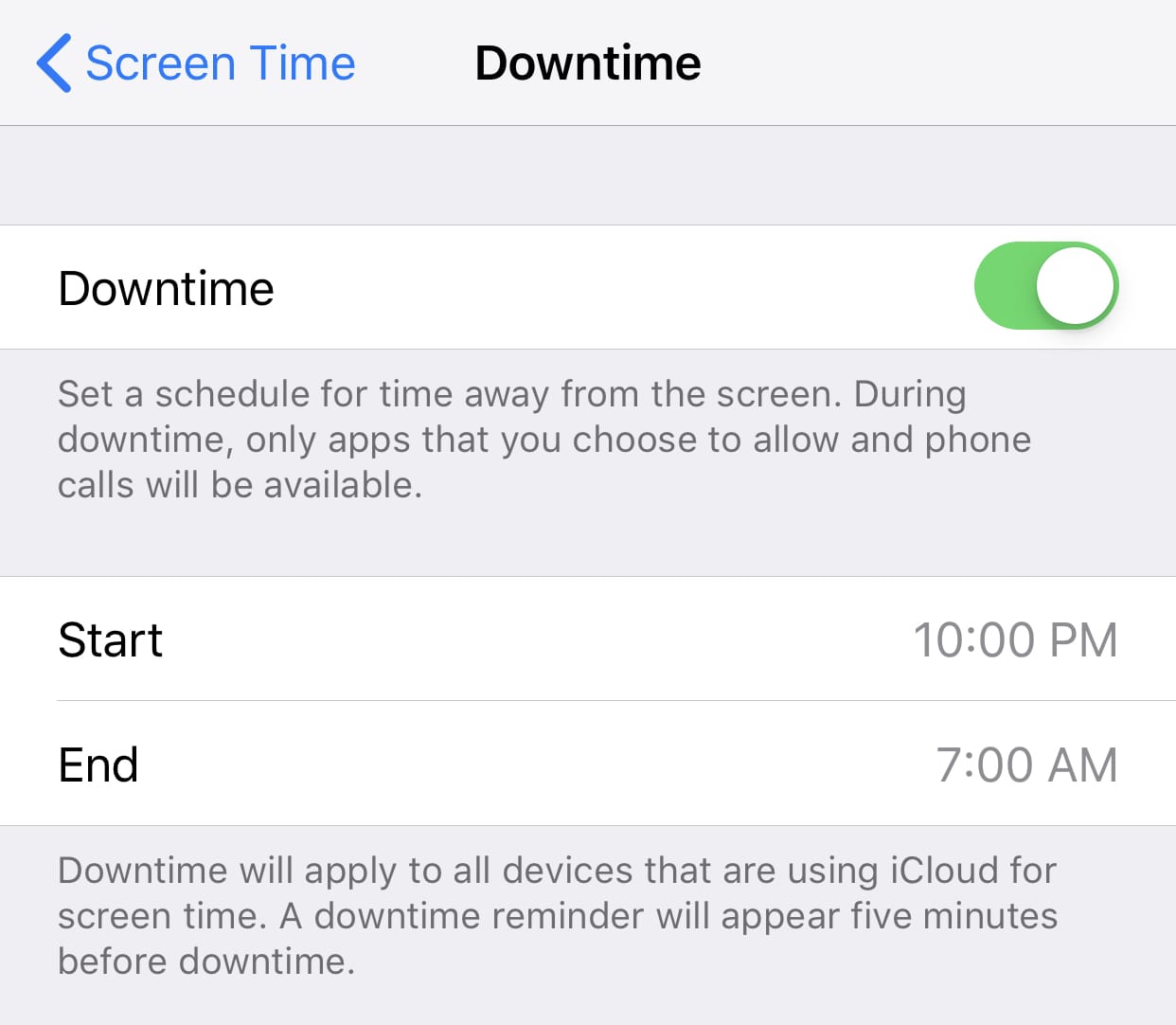 By toggling the switch to enable Downtime almost all of your apps will be unavailable* unless you allow them under "Always Allowed" which I will talk about later.
App Limits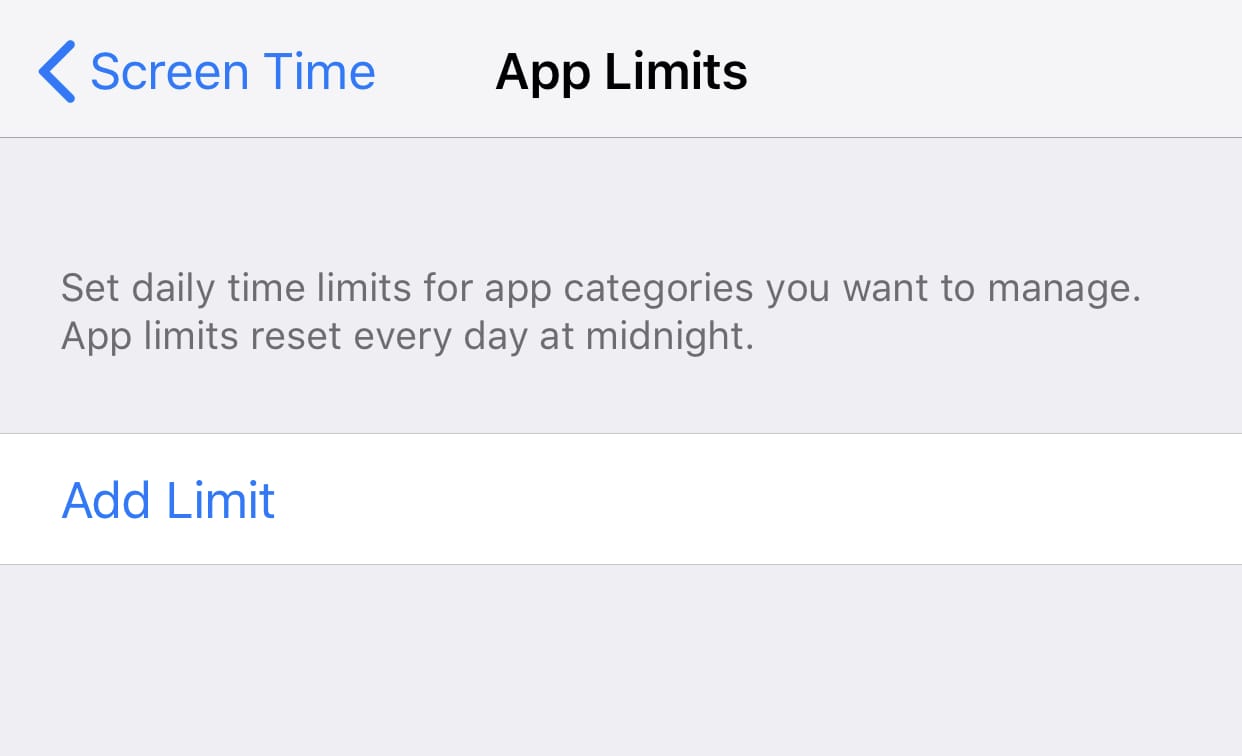 There may be apps that you find your self addicted to so to keep you off of them you can set time limits. To do so click on "App Limits" from the Screen Time main menu then "Add Limit".
You will then be prompted with a list of categories, under each is some app examples that fall into each category. Select all of the categories that you want to be included in this set of limits. Now click on "Add"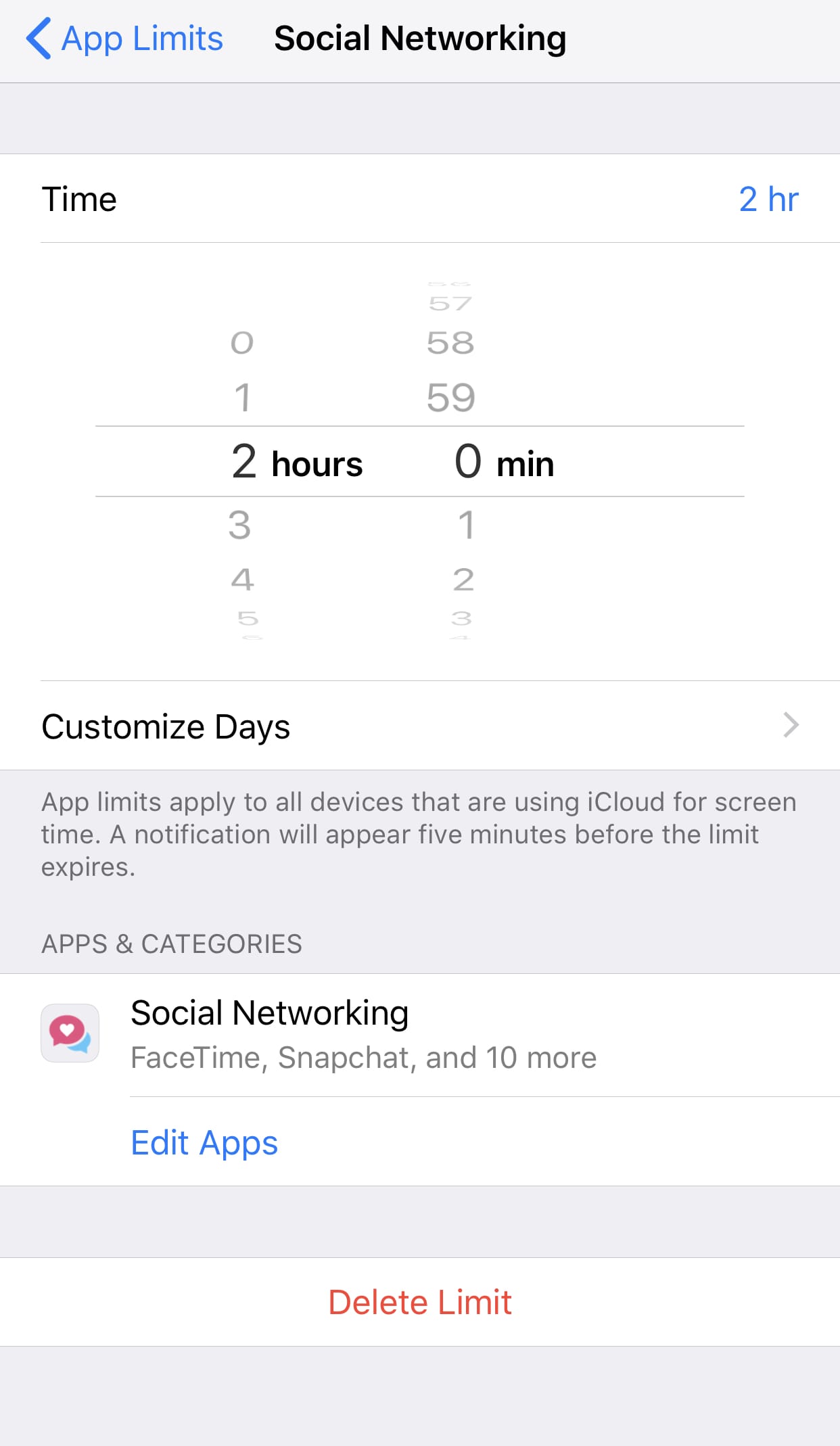 Scroll through and highlight how long you want to be able to use these applications. For custom times throughout the week, you can tap on "Customize Days" then by clicking on a day of the week you can set a time. Under your set time will be a summary of what apps will not be allowed, with the option to "Edit Apps" to either add or remove categories from these limits. Then the final option is to "Delete Limit" if you no longer want it. Once finished clicking the back button labeled "App Limits". Now that you have set a limit you can see it on this menu. To edit any limit tap on it, then edit it the same way that you set it up. Note: you may have to click on "Time" to change a limit's time.
Always Allowed and Ignoring App Limits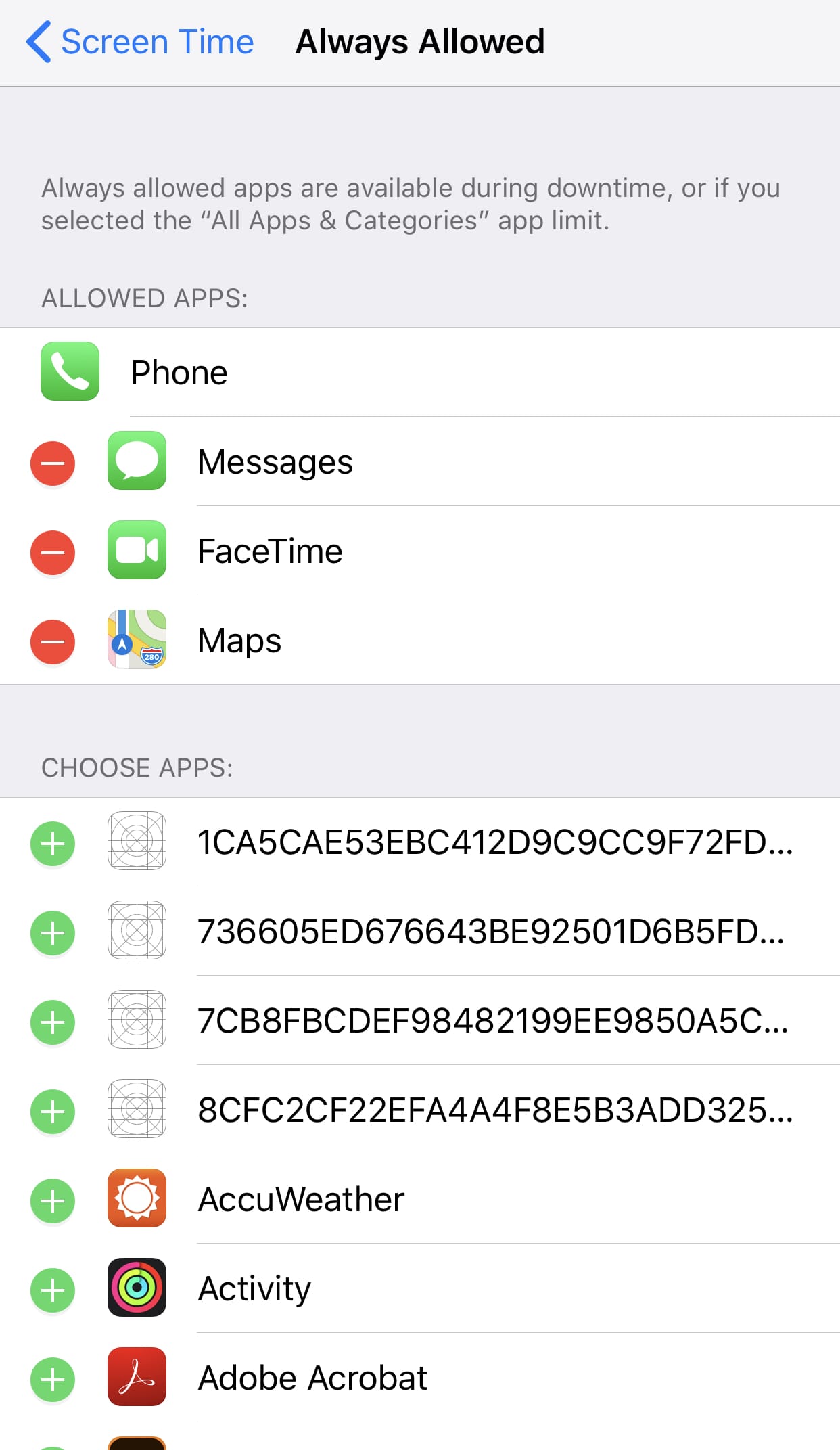 With all this talk of blocking apps by setting time limits what if you need to access them. When you try to use an app after you designated times you will be greeted by a message stating that you have run out of time to access that app. If you would like to continue forward you can click "Ignore Limit", then be prompted if you would like another 15 minutes ("Remind Me in 15 Minutes") or to ignore for the day ("Ignore Limit For Today")
Now if you want to always have access to an app even when the time is expired you can do so by adding it to the "Always Allow" list (view graphic titled "Screen Time | Always Allowed"). This feature can be found on the main Screen Time menu. To add an app to the always allowed list just click the green plus next to the title. It will then be moved to the top of the list with the rest of the apps that are always allowed.
Content and Privacy Restrictions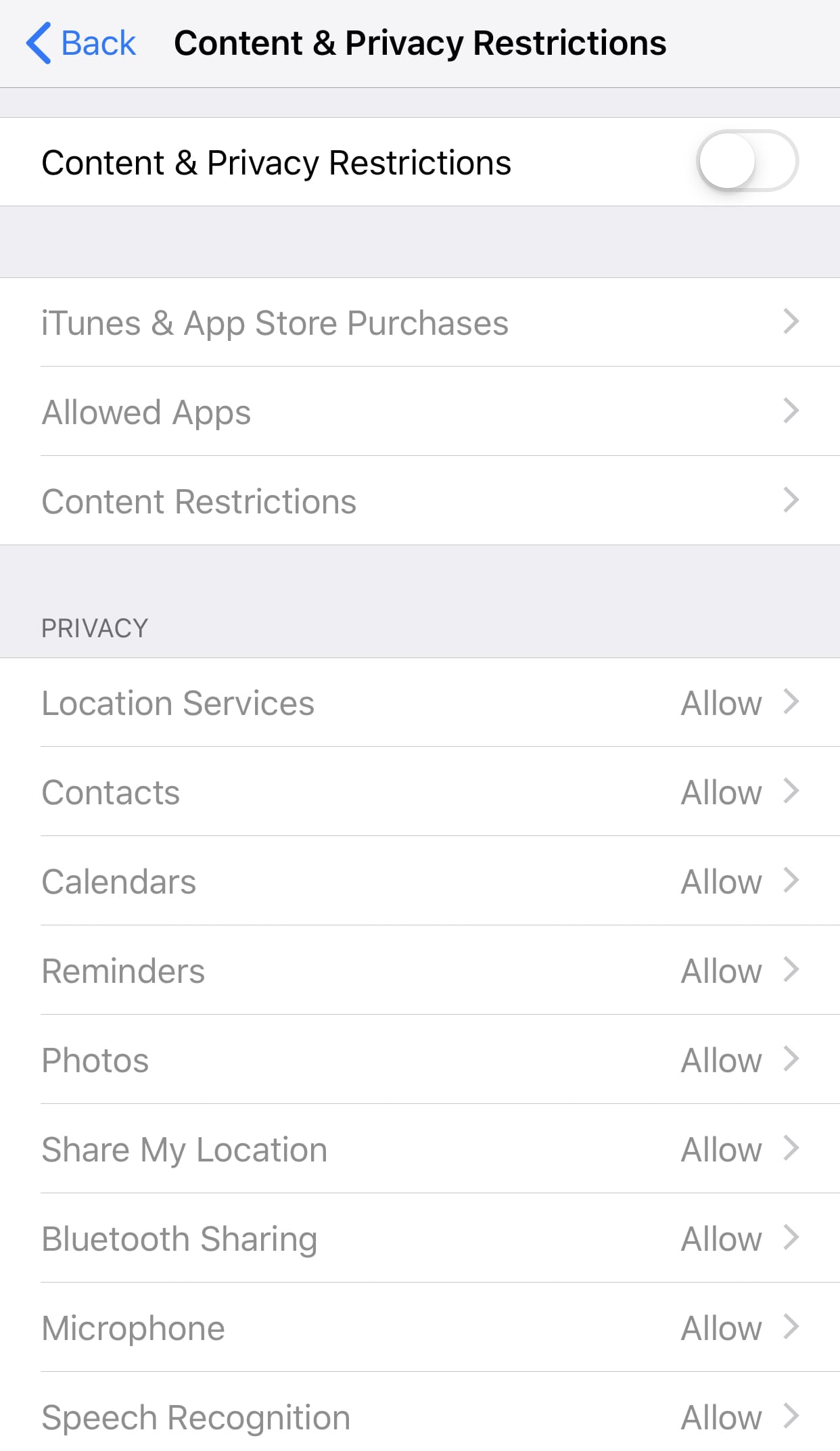 The last option for restriction and limiting your device usage is in restrictions. If you recall the previous version of iOS, Restrictions could be found in the "General" preferences. Well in iOS 12 it is moved to Screen Time. For the most part, your options are the same just moved around. For more on restrictions Click Here to read "A Parents Guide to iOS" and stay tuned for an updated post on these changes.
Passcode and Sharing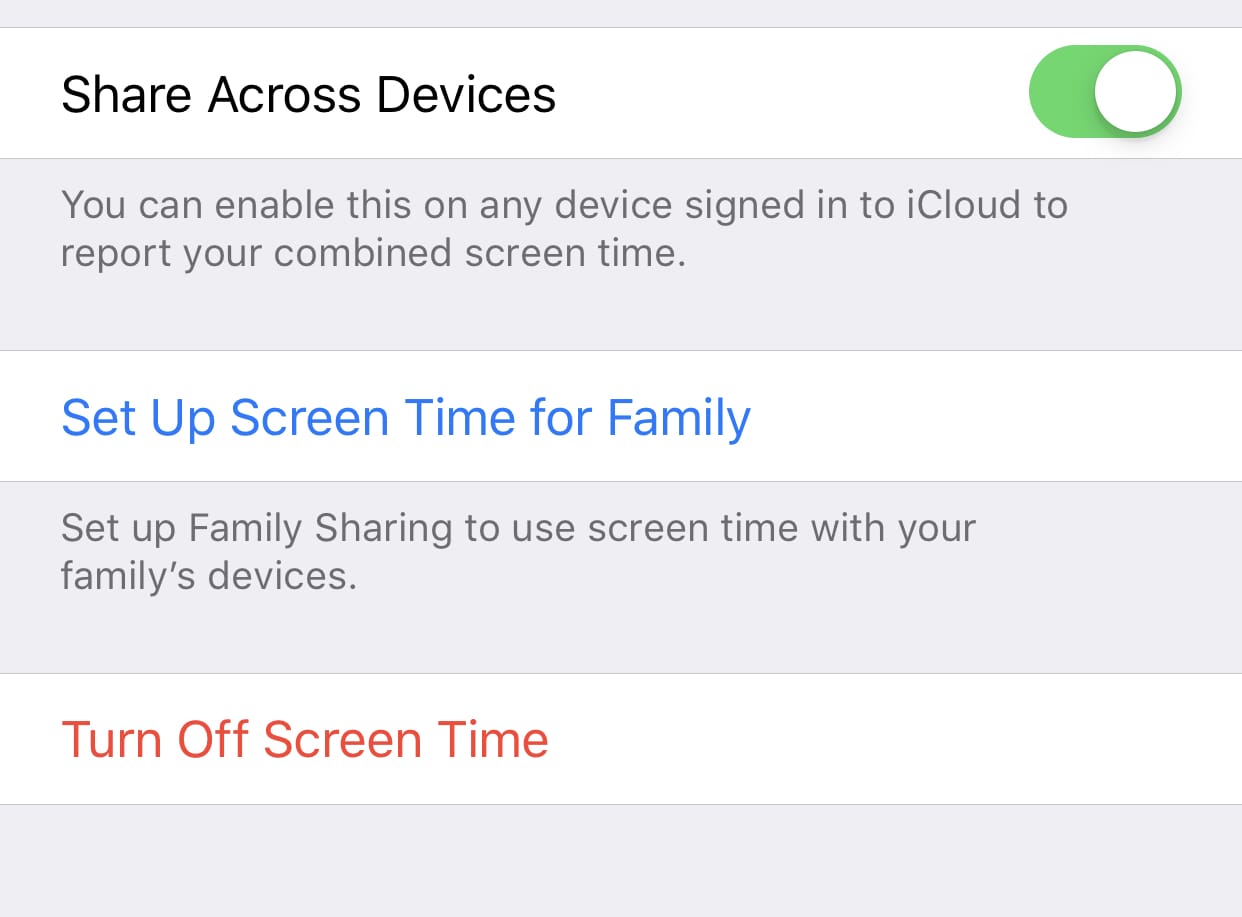 By default, there is no password on any of these settings you have made. So anyone can come in and override it. To keep others, most likely your kids, from changing these features you can lock them with a passcode. This password will be needed to edit Screen Time settings in settings and ignoring time limits. Under that, you have the option to sync all of your usages data between all of your other iCloud devices by toggling "Share Across Devices" on. Or as a parent, you can set up Family Sharing to remotely edit all of these settings. Then finally if you don't like all of this data that is being collected by your phone you can click on the red "Turn Off Screen Time" button
Helpful Links:
Subscribe: Apple Podcasts | Google Podcasts | Spotify | Amazon Music | Android | Pandora | Blubrry | Email | TuneIn | RSS | More