Setting up macOS is simple to do with the setup wizard. Listed below you will find all 15 steps for setting up your new or recently restored Mac up and running.
Step 1: Language
Choose your preferred language from the list and use the scroll bars if necessary. Then click continue.
Step 2: Region
Choose your region. The region is necessary because some features such as Apple Pay and iTunes movie rentals/purchasing do not work in some countries. By choosing your region it will allow features that are available in your area.
If your region is not listed click the "Show All" checkbox.
Step 3: Keyboard Settings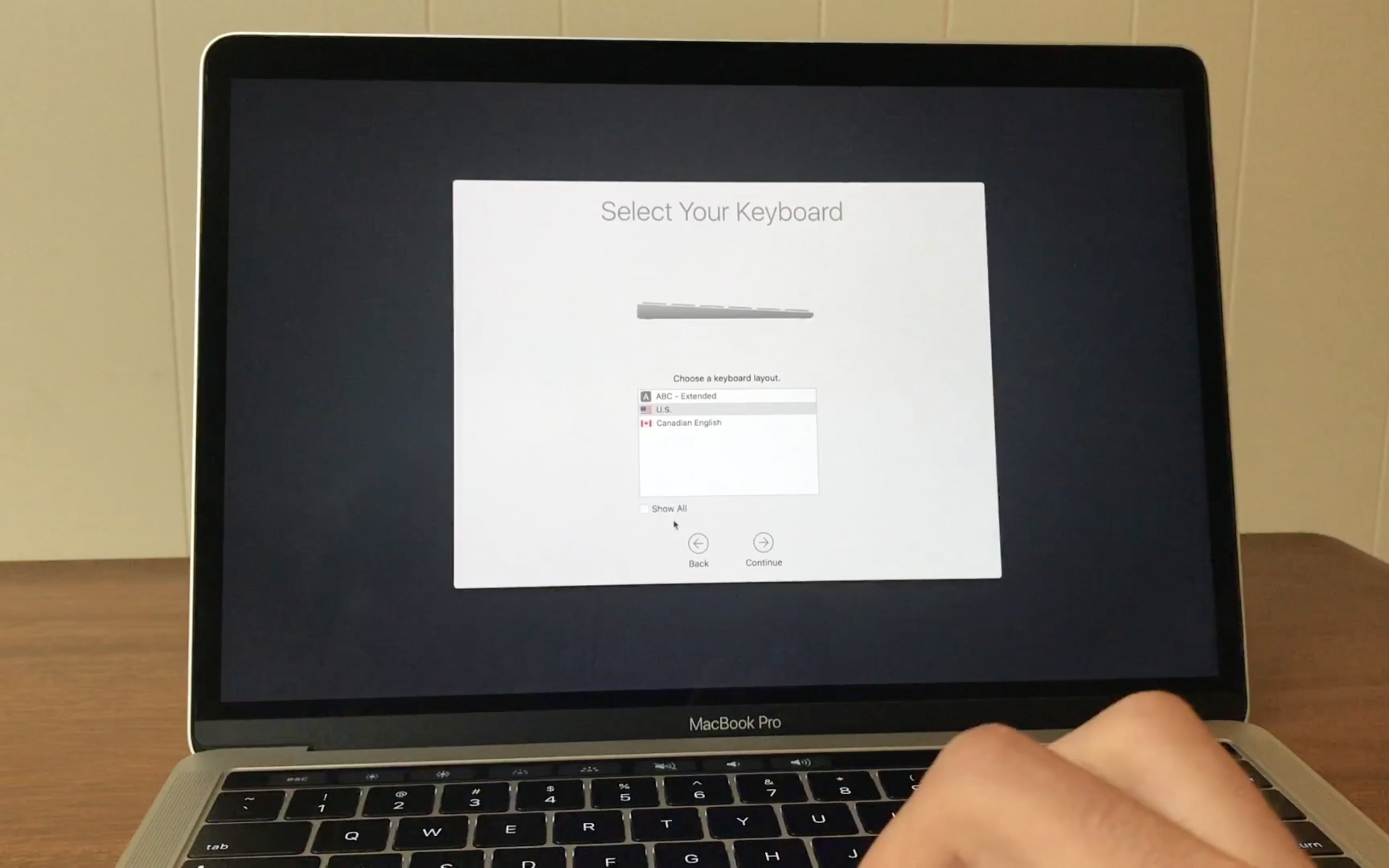 Choose your keyboard language. Apple makes keyboards in 15 languages. If your language isn't one of those 15 you can still customize your keys, although not physically change, to fit your language. An alternative would be to get a keyboard for your preferred language from a 3rd-party. If you don't see the keyboard configuration click the "Show All" checkbox.
Step 4: Internet
Choose Your WiFi connection from the list or connect using an ethernet cord. If those options are not for you click the "Other Network Options" button. Then click "Continue".
Step 5: Transfer Data
There are 3 options when transferring:
"From a Mac, Time Machine backup, or startup disk"

Connect your external hard drive Mac to your computer either wired or using the network (Hint: connecting wirelessly could take longer to load)
Choose data using the checkbox to copy over
Click continue
To learn more read about Migration Assistant Click Here
"From a Windows PC" – Click Here to read more about Windows Migration Assistant.
"Don't transfer any information now" – If you choose this option you merge it later using Migration Assistant.

Migration Assistant can be found by navigating to "MacintoshHD>Applications>Utilities>Migration Assistant"
Step 6: Location Services
Location Services uses your current location to find local weather and your location in Maps so I would recommend turning it on. You can limit who gets to see your location by going to "System Preferences>Security and Privacy" then click on the "Privacy" tab. Location Services should be the first option on the left menu and on the right will be the checkboxes to choose who can and can't see your location.
Step 7: AppleID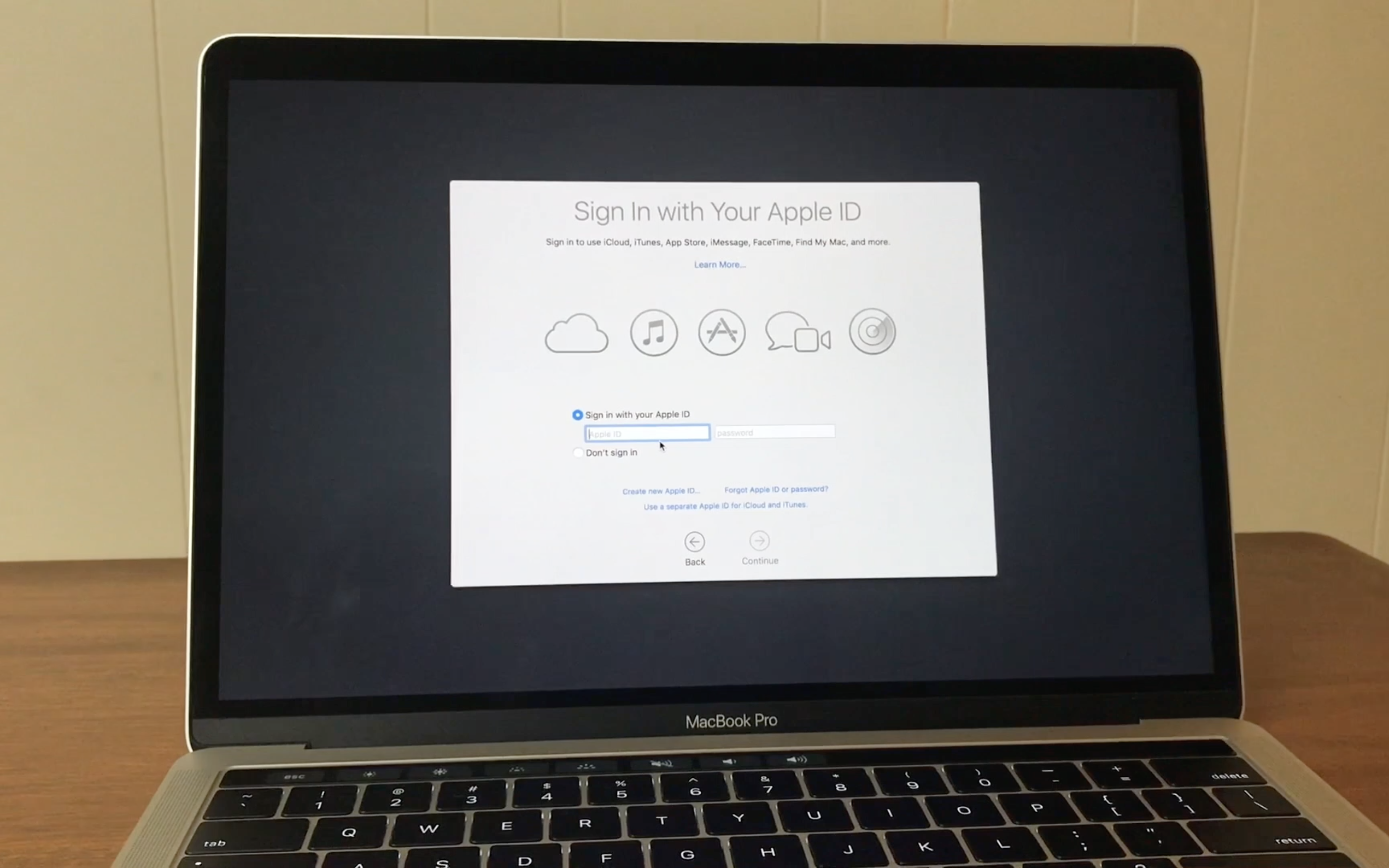 In this step you must sign in with your Apple ID. The Apple ID is the same as an iCloud account.
Signing in here will sign you in to iTunes, App Store, Messages, FaceTime, iCloud Drive, iBooks, Safari Bookmarks, History, Photos, Contacts, Calendars, Reminders, Notes, and Find My Mac.
If you forget any part of your Apple ID you can click on the "Forgot Apple ID or Password".
If you don't have an Apple ID you can click the "Create new Apple ID…" to create one.
There is also an option to use different accounts for iTunes and iCloud by clicking on the "Use a separate Apple ID for iCloud and iTunes"
If you don't want to sign in or would prefer to sign in at a later time, you can click on the "Don't sign in" checkbox.
Step 8: Terms and Conditions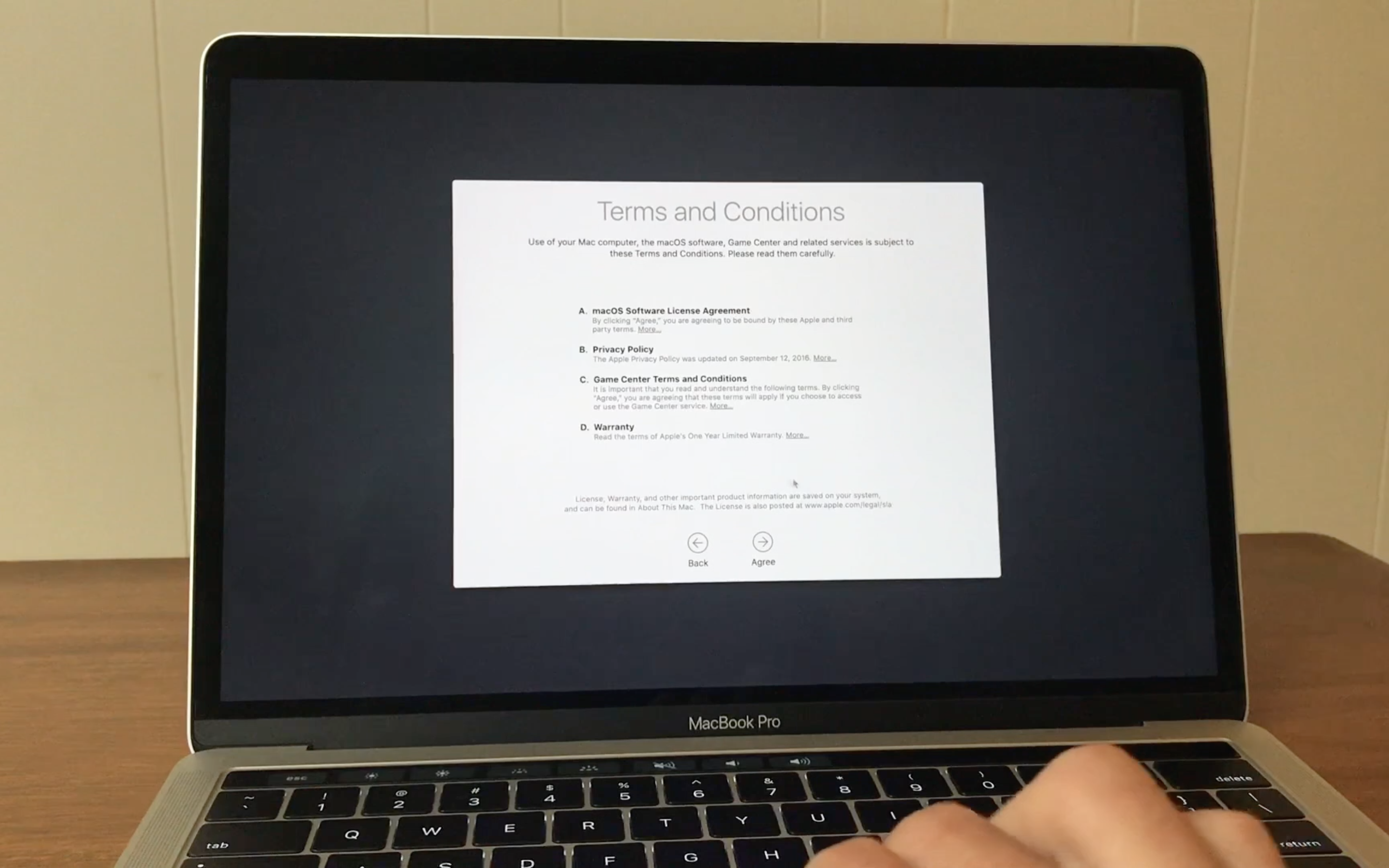 By clicking "Agree" you are agreeing to macOS Software License Agreement , Privacy Policy, Game Center Terms and Conditions, Warranty.
Step 9: Create Computer Account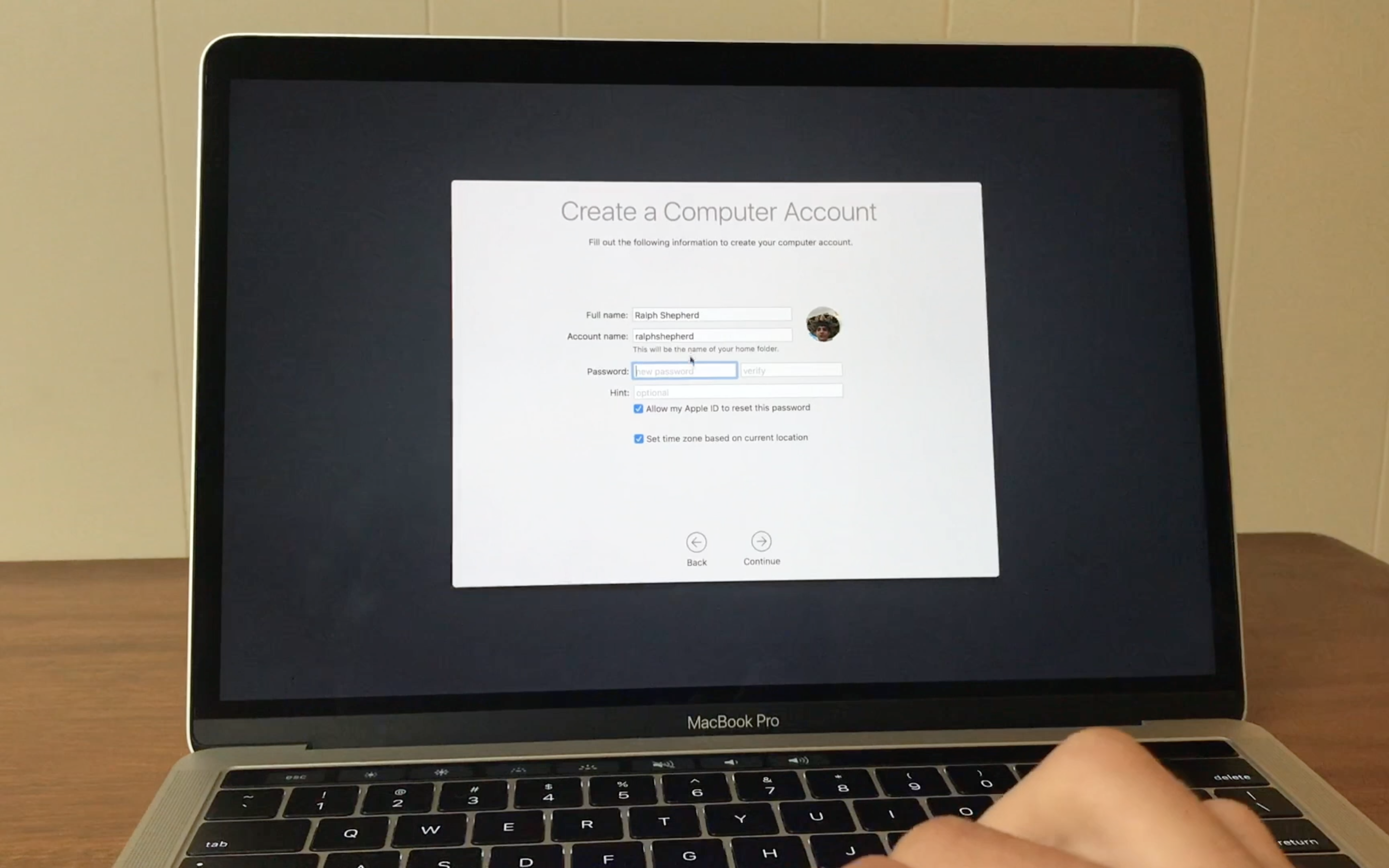 Now it's time to create an account by entering information in the fields. If you signed in using your Apple ID in step 6 the "Full Name" and "Account Name" will be filled in, but you are more than welcome to change them.
Full Name
Account Name – This is the name of your home folder
Account Profile Picture
Password
Password Hint – Optional
If you think that you may forget your password, I would recommend enabling "Allow Apple ID to reset this password"
If you enabled "Location Services" in step 5, I would also recommend that you enable "Set time zone based on current location"
Step 10: FileVault Disk Encryption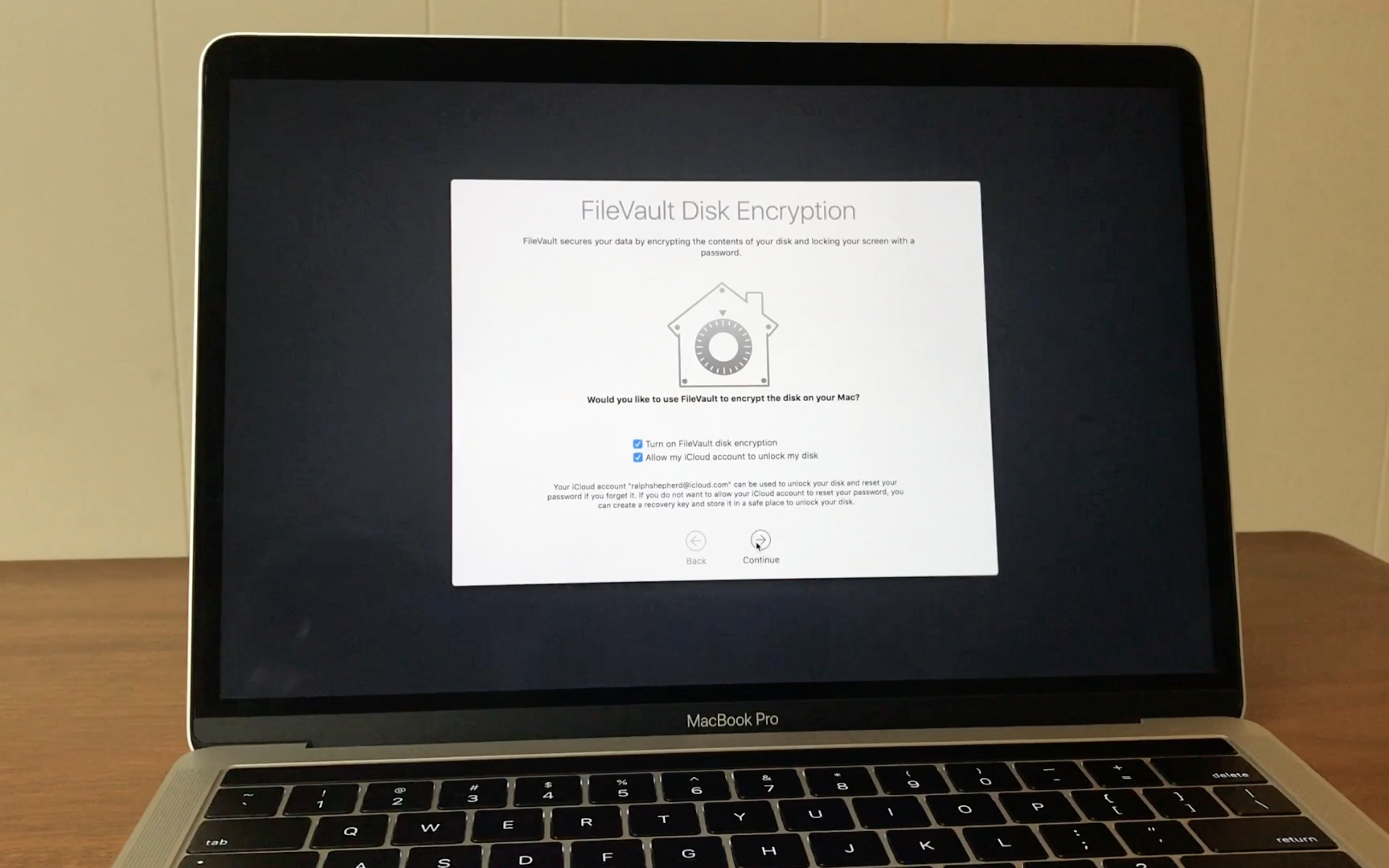 FileVault will encrypt all information on your Mac with your Apple ID account. This is just an extra layer of security and is not necessary if not needed. If you would like to enable it, it'll be better to do it now because as you add more data to your computer it will take longer to encrypt.
Step 11: All Your Files in the Cloud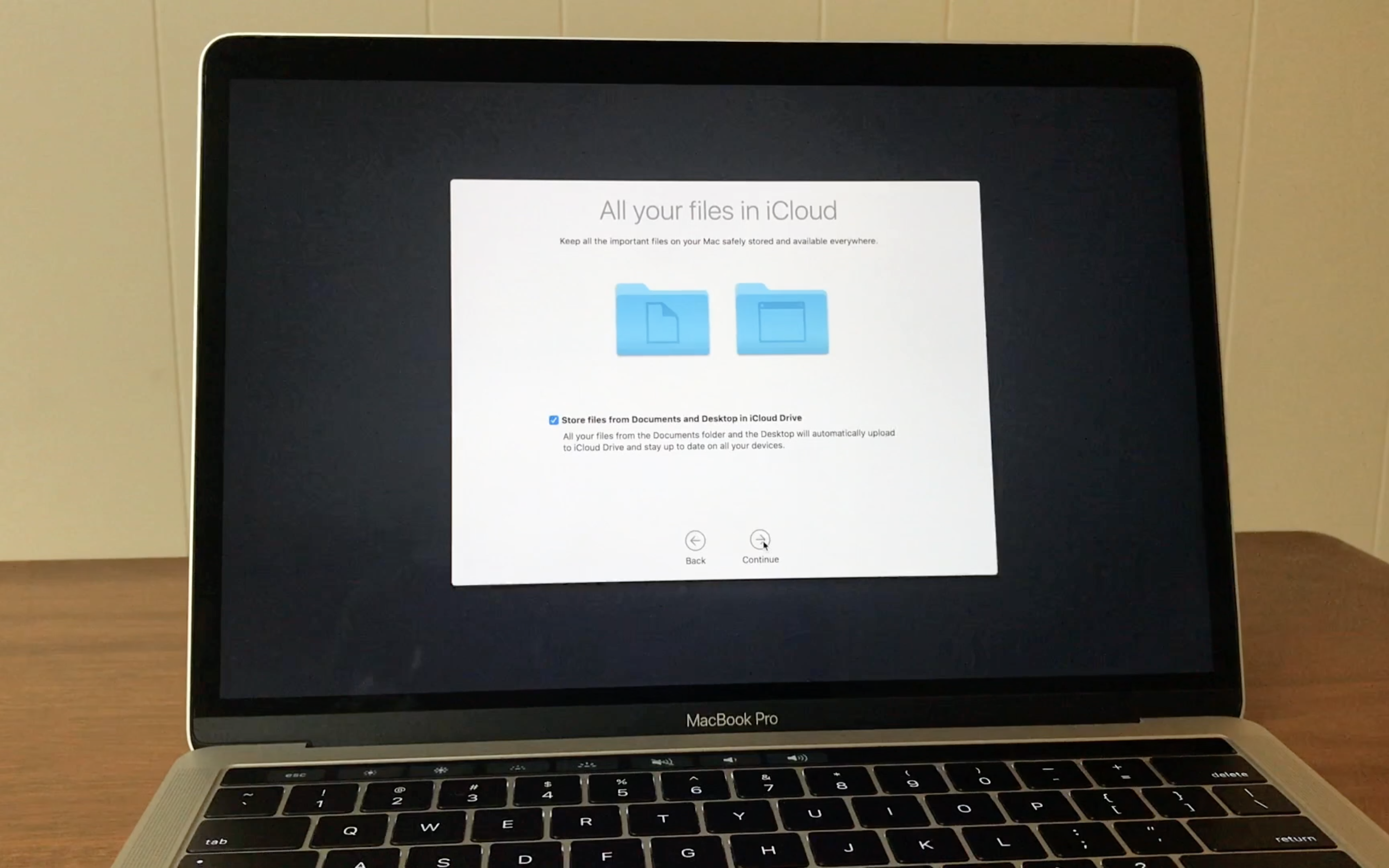 Enabling "Store files from Documents and Desktop in iCloud Drive" will sync the Documents and Desktop folder to the cloud. This is not recommended unless you purchase more iCloud storage because it will use most, if not all of your free 5GB in the iCloud Drive but could be helpful if you have multiple devices.
Step 12: Analytics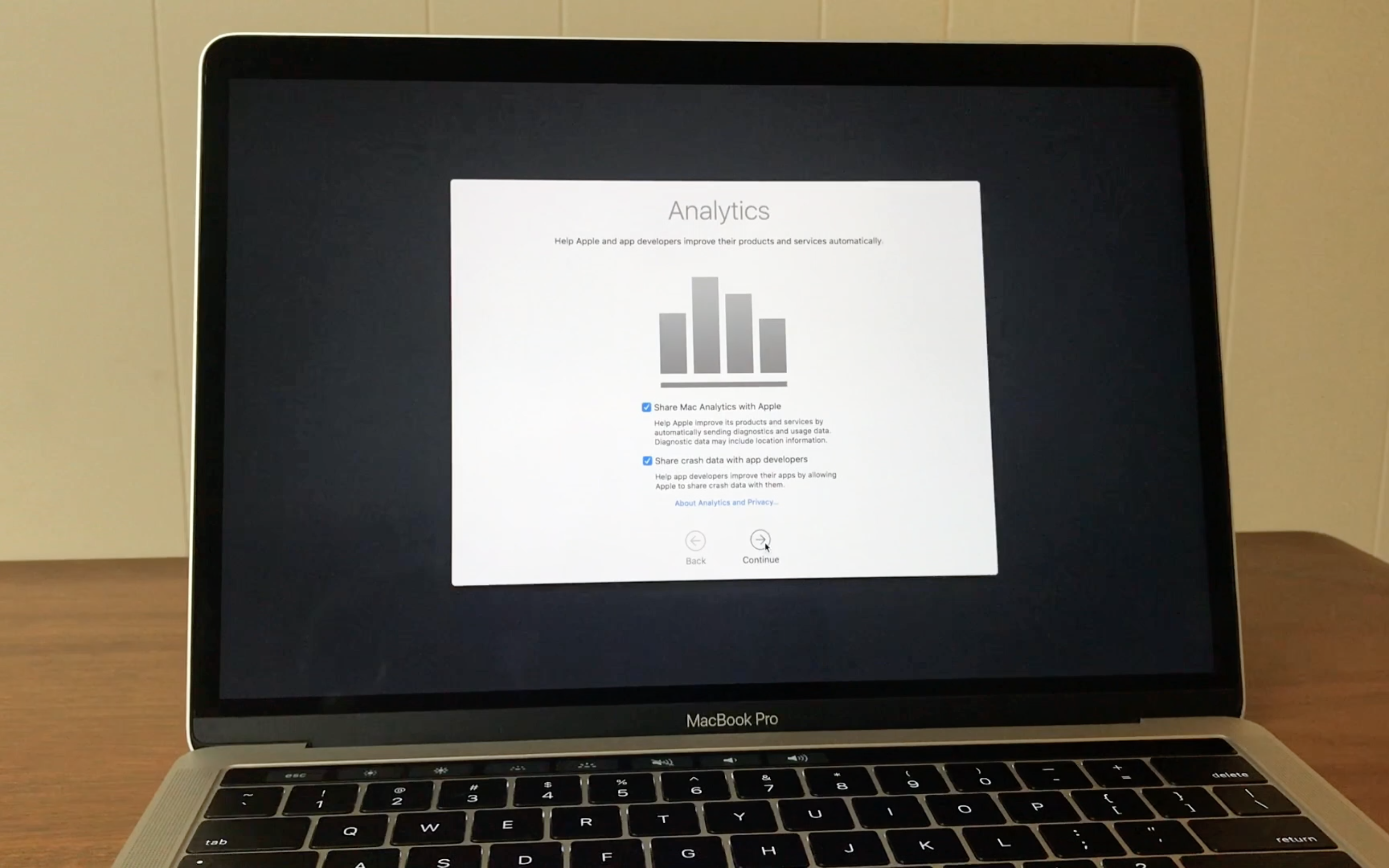 Sharing computer diagnostics, usage data, and crash reports anonymously with Apple and developers will help to improve the future performance of your Mac so it is recommended that you enable it.
Step 13: Siri
(Requires MacOS Sierra and newer (10.12+))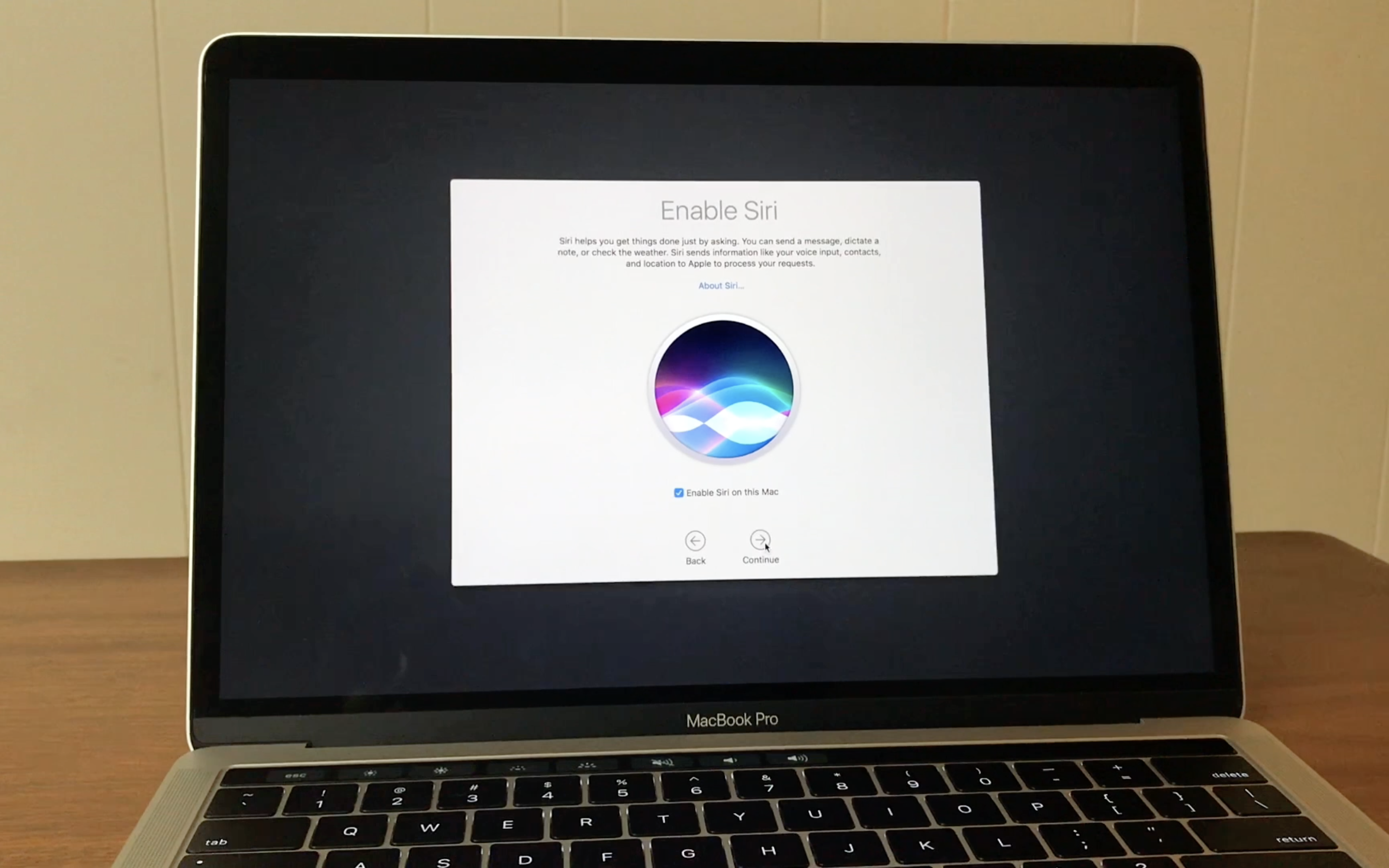 This is about personal preference. Some people think that Siri is helpful others may feel she gets in the way so it up to you if you wish to enable her. Siri also works differently in macOS compared to iOS in that she can search Finder and basically operate as a voiced Spotlight search in addition to the iOS features.
Step 14: Touch ID
(2016 MacBook and newer)
Touch ID is just as helpful as it is on iOS. Using Touch ID saves you time by not having to enter your password when you turn your computer on or when it goes to sleep.
Step 15: Apple Pay
(2016 MacBook and newer)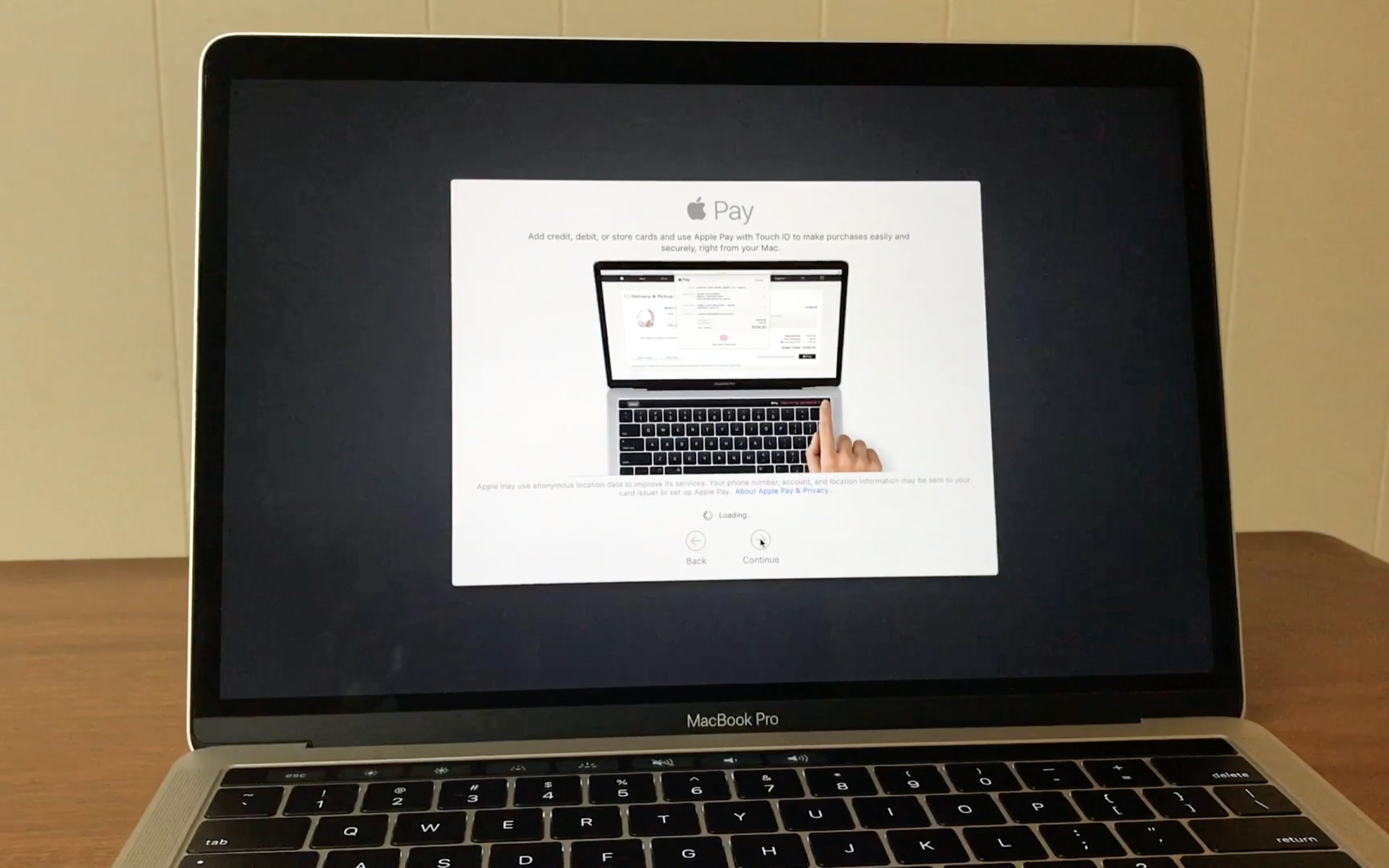 macOS El Captain (10.11) introduced Apple Pay to the web so you can now make purchases through Safari.
To add your Apple Pay supported card to Apple Pay on your Mac hold your card up to the iSight camera, it should do the rest. At times that feature may not work requiring you to enter the information. If you want to skip this step click Continue. Then at the top under the "Add Card" label click "Set up Apple Pay Later". You should then be taken to step 15.
Step 16: All Done
You should now be at the desktop screen and your Mac is ready to go.
I would recommend restarting your computer now to "finalize" the setup.
Subscribe: Apple Podcasts | Google Podcasts | Spotify | Amazon Music | Android | Pandora | Blubrry | Email | TuneIn | RSS | More